You are in: HOME > COMPANIES 2.0 > LETTER "E" > ENDEAVOR LINES > EROTOKRITOS T. (2007-2010)
F/B EROTOKRITOS T.
<![if !vml]>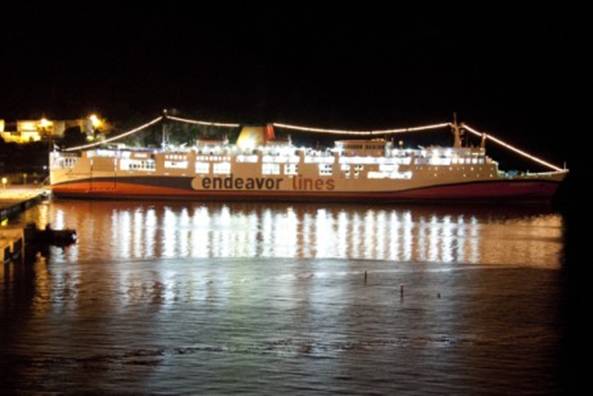 <![endif]>
Photo © Michele Lulurgas, Igoumenitsa, 02/04/2010 #9573
Ship

Erotokritos T. (2007)

ΕΡΩΤΟΚΡΙΤΟΣ Τ.

Building Spec.

Naikai Zosen K.K.

Setoda (Onomichi), Japan, 1974 – N° 387

Call Sign

SVHD

IMO Number

7394747

GRT

24.055

DWT

5.422

Dimensions

188,40 x 25 x 6,70

Engines

2 Mitsubishi – MAN V7V52/55A, 27.580 kW

Speed

23 knots

Passengers

1.000

Beds

446 in 126 cabins

Cars

785

Lane Metres

1.550

Sister Ships

Lato

Registry Port

Piraeus

Flag

Greek

Former Names/Owners

Ishikari – Taiheiyo Enkai Ferry 12/1974-82

Ishikari – Taiheiyo Ferry 1982-1990

Ishikari – Strintzis Lines 1990-05/1991

Erotokritos – Minoan Lines 05/1991-12/1999

Erotokritos – Minoan Flying Dolphins/Hellas Flying Dolphins 12/1999-12/2002

Chartered to Minoan Lines 12/1999-06/2002

Chartered to Maritime Way 07/2002-01/2003

Erotokritos – Maritime Way 02/2003-01/2007

New Names/Owners

Scrapped at Alang (India) as "Kritos" on January 2011

Line
The "Ishikari" was delivered to Taiheiyo Enkai Ferry, later known as Taiheiyo Ferry, for Nagoya – Sendai – Tomakomai line, In 1990 she was bought by Strintzis Lines and soon resold to Minoan Lines, which renamed her "Erotokritos" and deployed the ferry always on international services, first on Ancona – Patras and Ancona – Igoumenitsa, later on Venice – Corfu – Igoumenitsa – Patras. In 1999 the ownership of the "Erotokritos" was transferred to Minoan Flying Dolphins; anyway the ferry remained in Minoan Lines's services until 2002 when, after a rationalization of Minoan Lines's Venice services, was redelivered to the owner Hellas Flying Dolphins. Anyway that company didn't deployed the ferry in their service, chartering her to Maritime Way. After almost five years of service for the Italo-Greek company, some rumours about her sale became stronger and stronger, and finally a buyer for the "Erotokritos" came out: it was Dimitrios Gianetatos, already owner of the "Elli T.", which intended to deploy the ferry on Endeavor Lines's service between Brindisi, Igoumenitsa and Patras, reaching also Corfu and Cephalonia on high season. This happened in 2007 Spring, after the return of the "Erotokritos T." from Tuzla shipyard, where she was refitted. This work in my opinion has contrasting results: the interior was extremely well altered, reminding the "Ionian Queen" style, with very interesting color schemes and heavy use of wood tonalities; the exterior paintwork instead was very unsatisfactory. This time the "Endeavor Lines" mark is of the right size, but the fonts used are slightly different from those used on "Ionian Queen", giving an idea of old age; the blue and yellow stripes painted at stern are lacking on this vessel; anyway the ugliest mistake are the yellow and red stripes on the funnel, which are painted descending to the stern and not to the bow. Later, the stern stripes were added, but the wrong graphic of the funnel wasn't changed. In 2008 the partner of the "Erotokritos T." became the "Ionian Queen", then, in 2009, the ferry received the new livery of the company, starting also to be employed, on an irregular basis, also on the shorter Brindisi – Corfu – Igoumenitsa line. In 2010 the "Erotokritos T." started to suffer of mechanical troubles, which sometimes affected her sailings; at the end of the year the company sold the ferry to Indian shipyards, signing the end of an hystorical Greek ferry. The only regret of her interesting life, in my opinion, was the missing career in Strintzis Lines.
<![if !vml]>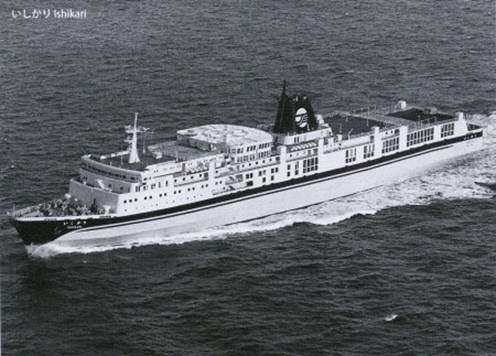 <![endif]>
TAIHEIYO ENKAI FERRY F/B Ishikari prima before lenghtening – Photo taken from the book "History of Japanese Car Ferries"
<![if !vml]>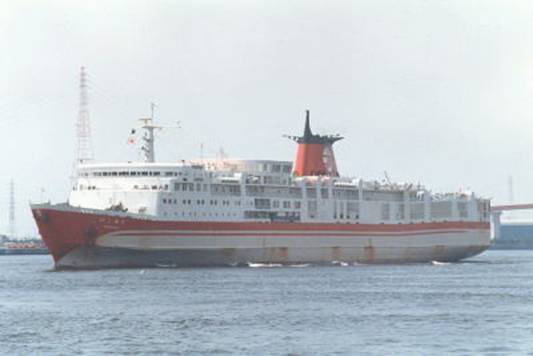 <![endif]>
TAIHEIYO ENKAI FERRY F/B Ishikari – Photo by courtesy of Murase
<![if !vml]>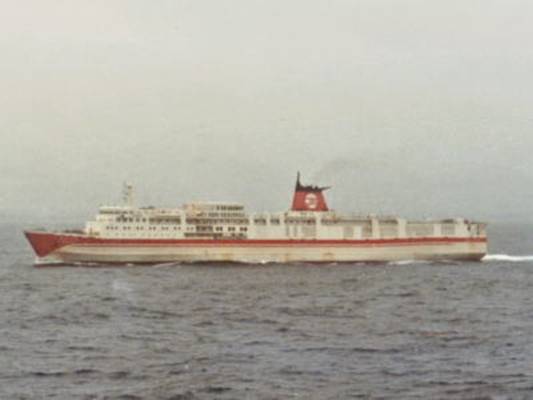 <![endif]>
TAIHEIYO ENKAI FERRY F/B Ishikari – Photo by courtesy of Murase
<![if !vml]>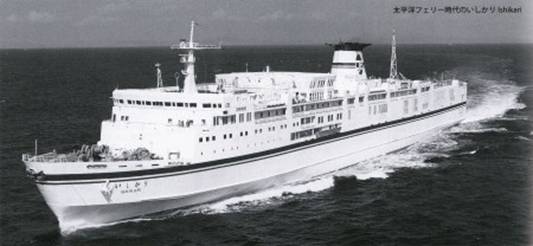 <![endif]>
TAIHEIYO FERRY F/B Ishikari – Photo taken from the book "History of Japanese Car Ferries"
<![if !vml]>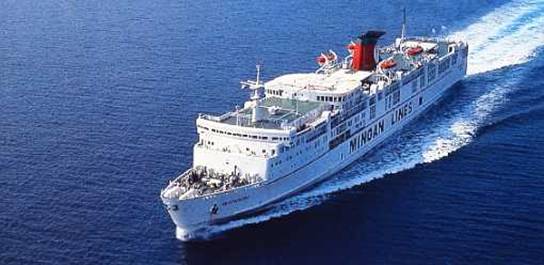 <![endif]>
MINOAN LINES F/B Erotokritos – Photo from Greecefinikunda's collection
<![if !vml]>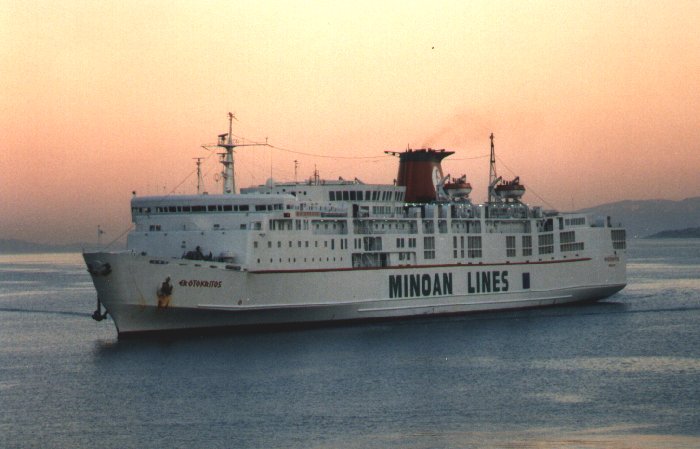 <![endif]>
MINOAN LINES F/B Erotokritos – Photo © Gunnar Menzer
<![if !vml]>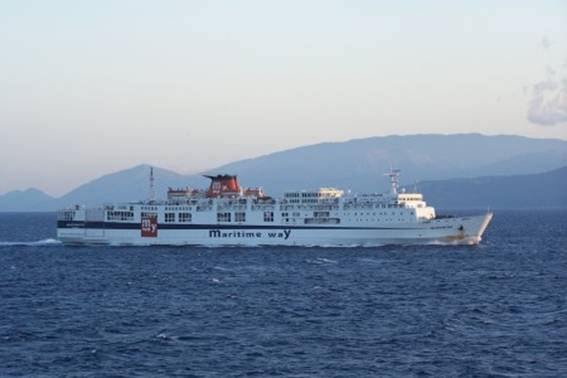 <![endif]>
MARITIME WAY F/B Erotokritos – Photo © Michele Lulurgas, Ionian Sea, 30/05/06 #2575
<![if !vml]>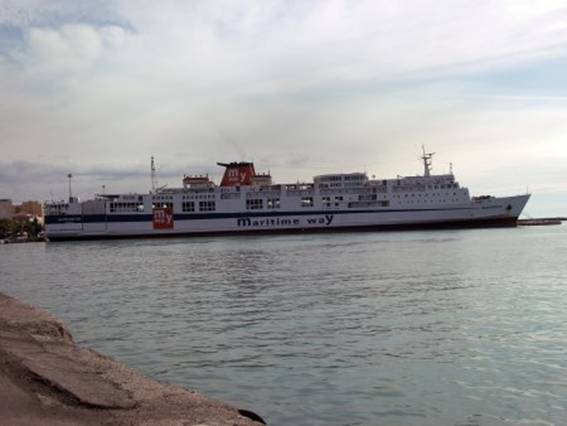 <![endif]>
MARITIME WAY F/B Erotokritos – Photo © Antonia Lulurgas, Patras, 09/08/06 #4477
<![if !vml]>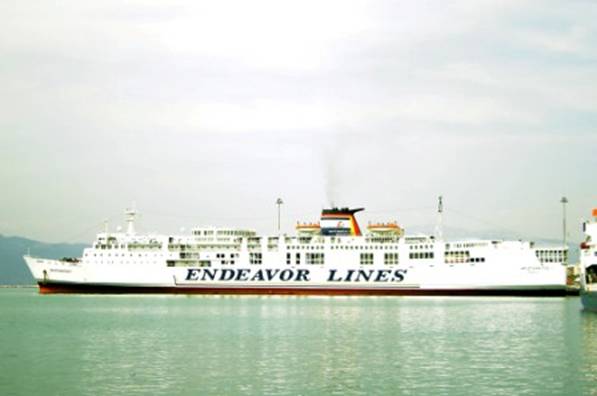 <![endif]>
Photo © Maria Cristina Margheri, Patras, 15/04/07 #6457
<![if !vml]>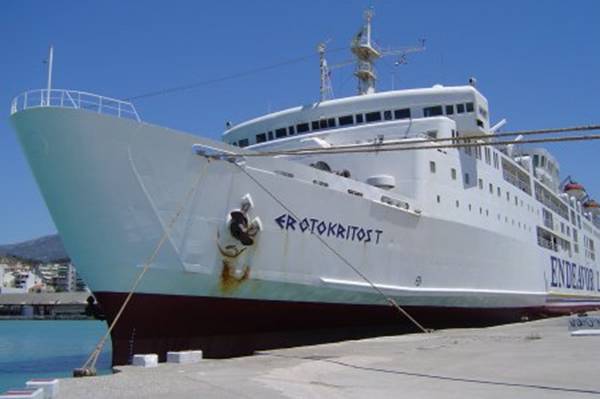 <![endif]>
Photo © Maria Cristina Margheri, Patras, 06/07/07 #6974
<![if !vml]>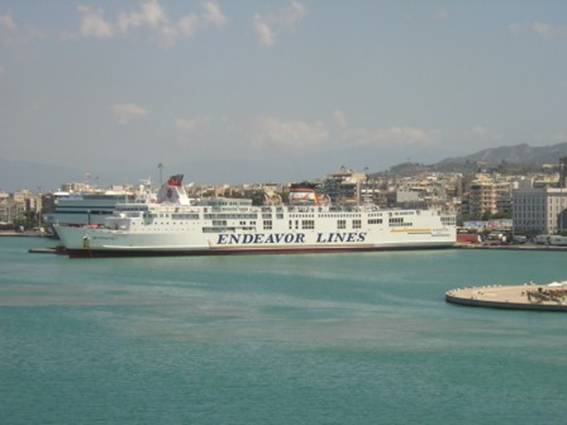 <![endif]>
Photo from Alessandro Orfanù's collection, Patras, 11/08/07 #7833
<![if !vml]>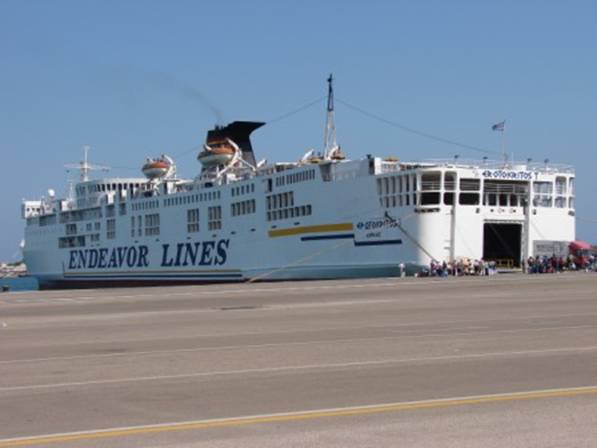 <![endif]>
Photo © Alessandro Orfanù, Brindisi, 21/08/07 #7011
<![if !vml]>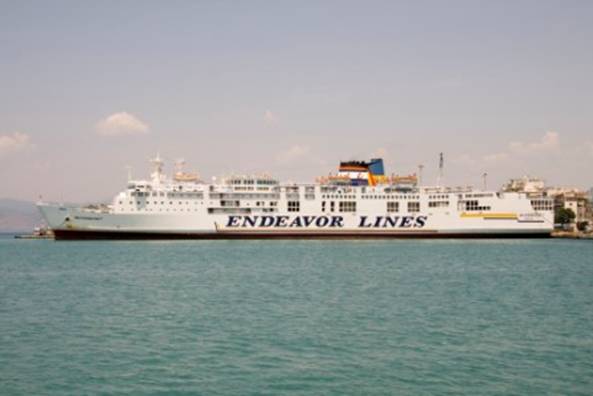 <![endif]>
Photo © Michele Lulurgas, Patras, 04/07/2008 #8965
<![if !vml]>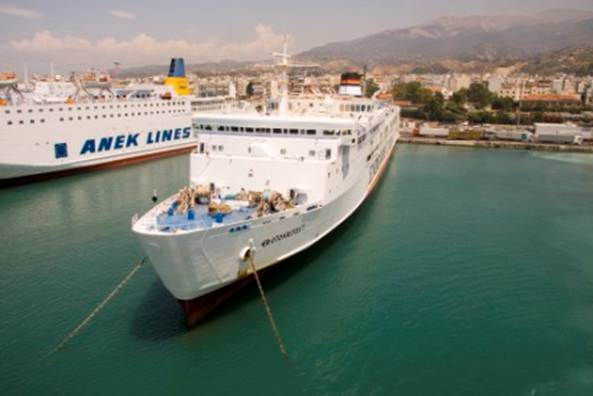 <![endif]>
Photo © Michele Lulurgas, Patras, 04/07/2008 #8970
<![if !vml]>
<![endif]>
Photo © Michele Lulurgas, Patras, 04/07/2008 #8971
<![if !vml]>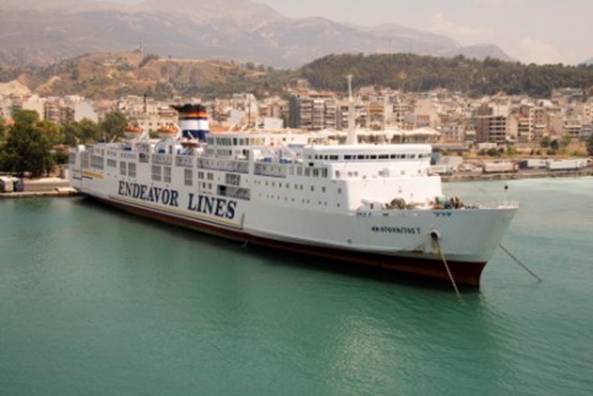 <![endif]>
Photo © Michele Lulurgas, Patras, 04/07/2008 #8973
<![if !vml]>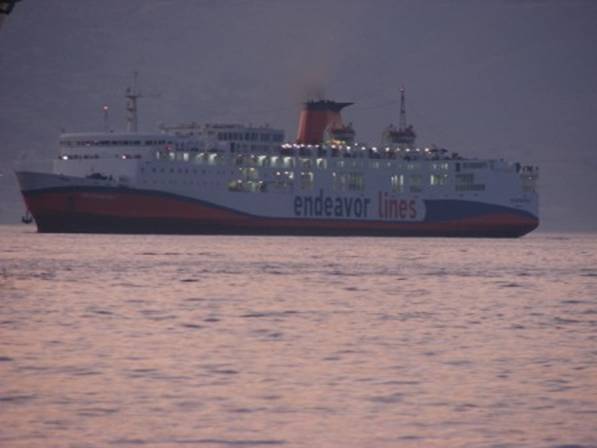 <![endif]>
Photo © Alessandro Orfanù #9189
<![if !vml]>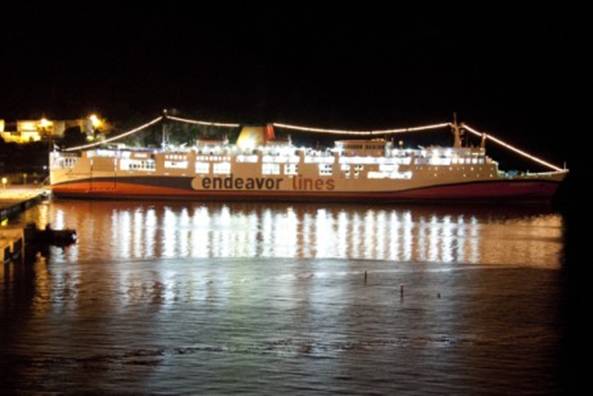 <![endif]>
Photo © Michele Lulurgas, Igoumenitsa, 02/04/2010 #9572
<![if !vml]>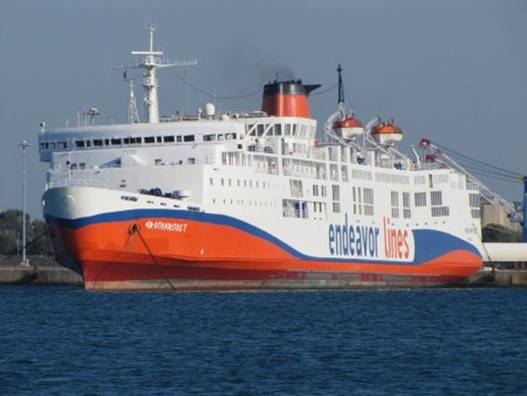 <![endif]>
Photo © Egidio Ferrighi, Brindisi, 29/04/2010 #9764