F/B IONIAN HARMONY
?
Ship

Ionian Harmony (1989)

Building Spec.

1967 at Fincantieri yards, C.di Stabia, Italy N° C645

Call Sign

IMO Number

6715372

GRT

5.477*

DWT

1.965*

Dimensions

126,35 x 19,21 x 5,47

Engines

2 Wartsila, 7.720 kW

Speed

18 knots

Passengers

1.200*

Beds

362*

Cars

300*

Lane Metres

420

Sister Ships

Al Salam Taba I (scrapped in 2004)

Saudi Moon II (sank in 1982)

Sindibad I (sank in 1992)

Registry Port

Piraeus

Flag

Greek

Former Names/Own.

Canguro Verde – Traghetti Sardi 1967-74

Canguro Verde – Linee Canguro 1974-81

Durr – Fagez 1981-89

New Names/Owners

Sun Fiesta – Ferry Charter 1990-93

Regent Jewel – Regency Cruises 1993-94

Calypso – Transocean 1994-00

Calypso – Louis Cruises 2000à

Line
* Figures related to the ferry before the conversion
Member of "Canguro" family, she started sailing in 1967 serving on a cruise-ferry service between Genoa, Barcelona, Caralis and Porto Torres in Sardinia; from 1974 she sailed only from Genoa to Porto Torres and v.v., a line which is nowadays known because of the competition between the better ferries of Tirrenia and Grandi Navi Veloci. From 1981 to 1990 has a parallel history with her sister "Canguro Bruno": was bought by Fagez  and renamed "Durr" for a service between Suez and Jeddah, having two minor damages on her Red Sea service. Strintzis Lines bought her in 1989 and the ferry was used for two seasons on Ancona – Dubrovnik – Corfu – Patras and Ancona – Split services. At the end of 1990 season the war in Yugoslavia forced Strintzis to close the links to Split and Dubrovnik; as long as the company didn't need anymore four ferries on Ancona, it stated to sell the "Ionian Harmony" to a Tobago based ferry company which planned to start a Caraibic ferry service and renamed the ship "Sun Fiesta". However the service didn't started ever, and in 1992 the "Sun Fiesta" was purchased by the owner of Regency Cruises, Mr Lelakis, which converted the ferry as a cruise-ship. The conversion was finished in 1994 and the new name was "Regent Jewel". Her first year of service as cruise ship was on cruises from New York; as the opposite of almost all European cruise ships, who spend the summer in Europe coming to America on winter, the "Regent Jewel" in December 1994 crossed the Atlantic heading to Greece, where she was chartered to Transocean Tours as "Calypso". She sailed with the German operator until 1998, when the charter ended and the ship was arrested; on 2000 was subsequently sold to Louis Cruise Line which bought her at auction. In my opinion the conversion to cruise-ship was not a success: now she is too high and has lost her graceful appearance typical of the original Fincantieri design; moreover the stern design is not so beautiful.
<![if !vml]>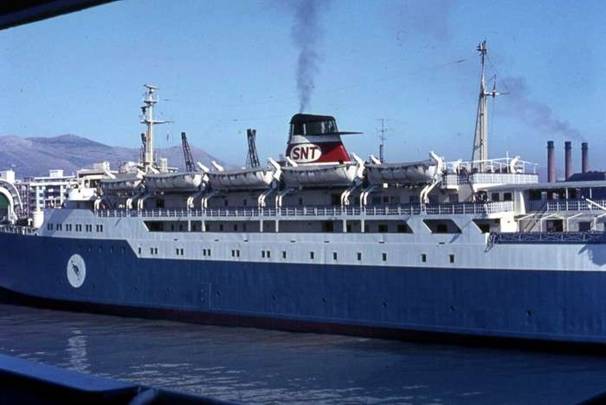 <![endif]>
TRAGHETTI SARDI F/B Canguro Verde – Photo © Gianpaolo Pesarini
<![if !vml]>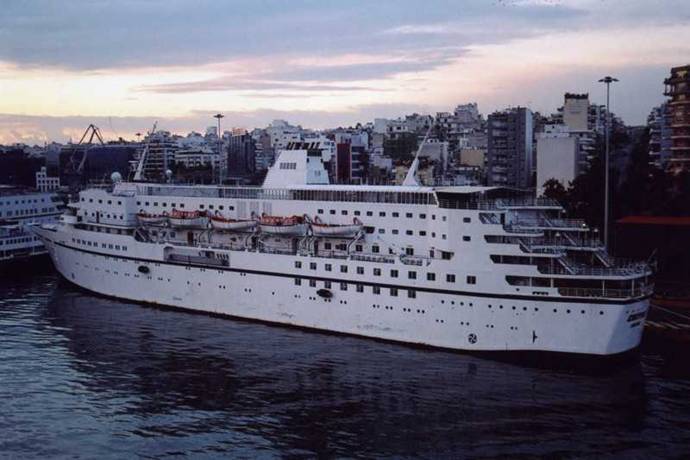 <![endif]>
LOUIS CRUISE LINE M/V Calypso – Photo © Gianpaolo Pesarini, Piraeus
<![if !vml]>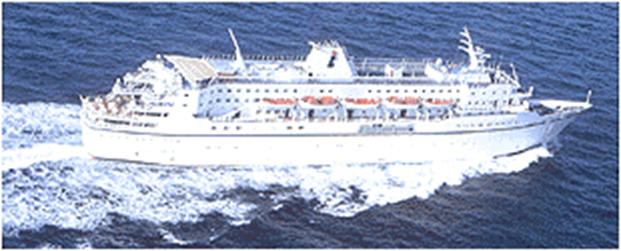 <![endif]>
LOUIS CRUISE LINE M/V Calypso, photo from Louis Cruise website