F/B IONIAn Island
<![if !vml]>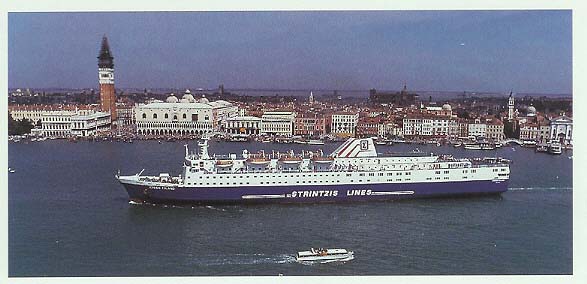 <![endif]>
Official Strintzis Lines postcard
Ship

Ionian Island (1989)

Building Spec.

1973 at Naikai Zosen, Setoda, Japan, N° 899

Call Sign

SXVQ

IMO Number

7229980

GRT

18.858

DWT

5.052

Dimensions

167,23 x 24 x 6,3

Engines

 2 Hitachi - B & W, 13.827 kW

Speed

21,5 knots

Passengers

1.700

Beds

700 in 220 cabins

Cars

600

Lane Metres

825

Sister Ships

Registry Port

Patras

Flag

Greek

Former Names/Own

Albireo – Taiheiyo Ferry 1973-89

New Names/Owners

Blue Island – Blue Star Ferries 2000-01

Çeşme 1 – Turkish Marmara Lines 2001 (Charter)

Çeşme 1 – Blue Star Ferries 2001-03

Çeşme 1 – Algerie Ferries 2003 (Charter)

Çeşme 1 – Blue Star Ferries 2003-04

Çeşme 1 – Algerie Ferries 2004 (Charter)

Merdif 1 – Marco Shipping Company 2004ŕ

Line
She was a full sister of "Blue Galaxy" under Japanese flag, but rebuilt in a different way coming in Greece, with a more enclosed superstructure. Previously engaged between Nagoya, Sendai and Tomakomai, she maintained a distinctive sign of her previous career throughout her Strintzis Lines period, the Taiheiyo mark on her bow between two bronzed fishes. She was the new flagship of Strintzis Lines from 1990, when she was put on the line Ancona - Corfu - Igoumenitsa - Patras, remaining on that line until 1995. On her first four seasons of service she left Ancona on Monday at 21.00 and on Thursday at 23.00, coming back from Patras on Wednesday at 13.00 and Saturday at 22.00; in 1994 the departures from Ancona were altered to 13.00 on Monday, 21.00 on Thursday and the departure of Wednesday from Patras was cancelled, leaving Peloponnese on Tuesday at 23.30. At the beginning of the Joint Venture with Minoan Lines was put on the new line Venice - Corfu - Igoumenitsa - Patras, sailing with "El Greco", "Fedra" and "Daedalus" on a daily basis from Venice at 18.00 (17.00 in 1996) and from Patras at 22.00. When the joint venture with the Cretan company ended, in 1997, for the following three seasons the ferry did a round trip per week from Patras to Venice and one from Patras to Ancona, then in 2000, with Blue Star Ferries's colours, returned "full time" on the line Venice - Corfu - Igoumenitsa - Patras, linking also Heraklion (Crete) reestabilishing a direct link Italy - Crete which was absent since 1997. On January 2001 she was put on Brindisi – Patras link; the results were unsatisfacting, also because the strong success of 2000 season was due to the speed of "Blue Star 1" and "Blue Star 2"; then the ship was chartered to "Turkish Marmara Lines" to serve Venice and Cesme with the name "Cesme 1". Remained without any operator for 2002  season, for Summer 2003 and 2004 was chartered to Algerie Ferries, linking Marseille and Alicante to Algeria.
<![if !vml]>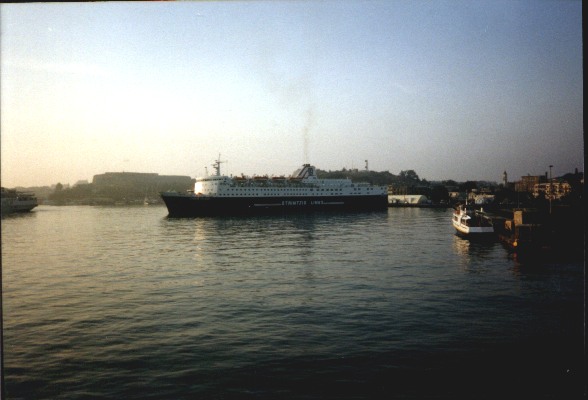 <![endif]>
Photo © Michele Lulurgas, Corfu, 13/06/97
<![if !vml]>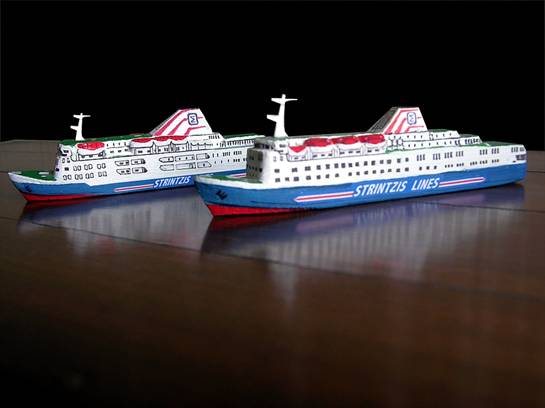 <![endif]>
The ex-Taiheiyo sisters reproduced by Stefanos Antoniadis's "shipyard"…what a nostalgy!!!
<![if !vml]>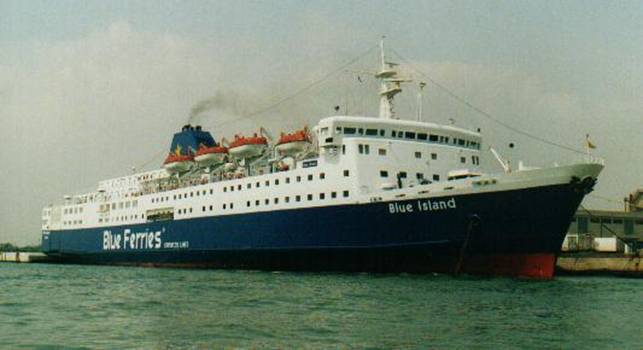 <![endif]>
BLUE STAR FERRIES F/B Blue Island photo © Pieter Inpijn
<![if !vml]>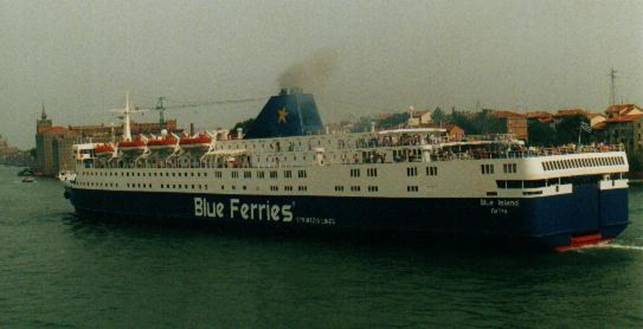 <![endif]>
BLUE STAR FERRIES F/B Blue Island photo © Pieter Inpijn
<![if !vml]>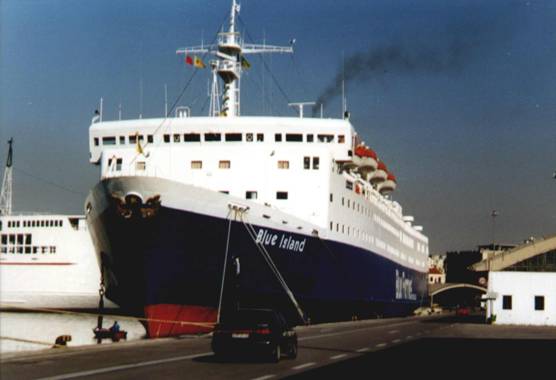 <![endif]>
BLUE STAR FERRIES F/B Blue Island photo © Michele Lulurgas, Patras, 02/01/01
<![if !vml]>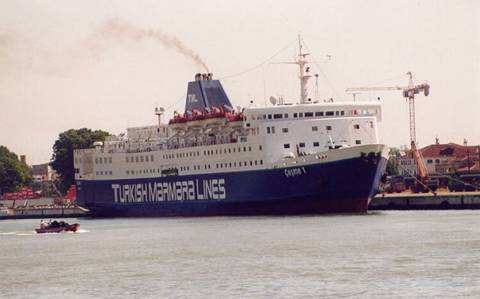 <![endif]>
TURKISH MARMARA LINES F/B Cesme 1 photo © Daniele Miglio