YOU ARE HERE: ADRIATIC AND AEGEAN FERRIES > IONIAN ISLAND MEMORIAL PAGE
ALBIREO • 10/01/1973 – MERDIF 1 † 17/07/2010
They can scrap you, they can't delete you from our memories....IONIAN ISLAND FOREVER! (Michele Lulurgas)
Surely in your life there are some friends, especially in your childhood, which are very special for you…nevertheless, when you grow up you miss each other, but it takes a little to recall all the good memories the friend left you. This seems an ordinary Facebook story, but this time the friend is a ship. Someone with a rational mind could say that speaking of friendship or love with a ship is a nonsense, but for all the shiplovers a ferry has her own soul and so the feelings become sensate; so here I am to speak about my relation with Ionian Island, which is the ship I travelled most in all my life (twice in 1990, once in 1991, twice in 1992, once in 1993, once in 1994 and the last time in 1997 eight sailings when the Patras – Ancona crossing took very much more time than today) and which I decided to remember with a specific page after the sale deal from her last owner, Marco Shipping Company of Giordania, to the scrap yards. Also the end is part of life, but I think it's normal to have regret for a ship which was very significant for me and very significant in Greek shipping scene; I also promise that here on this site I'll never publish any scrap photo, of this ship, as long as of the Lato, of the El. Venizelos and of the former Aretousa: on Adriatic And Aegean Ferries the Ionian Island will be always remembered in her best shape, a choice I think is mandatory to do for a friend. But how started this friendship?
                                                                                                                                                                                               <![if !vml]>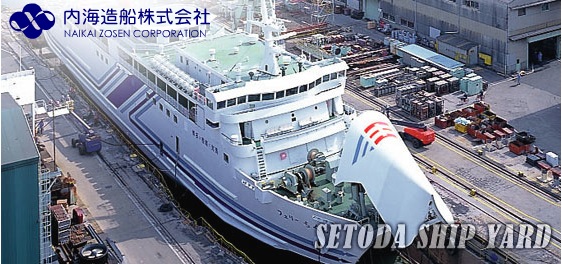 <![endif]>
The Naikai construction dock at Setoda, where the Albireo was probably built. (Photo from Naikai Zosen website)
<![if !vml]>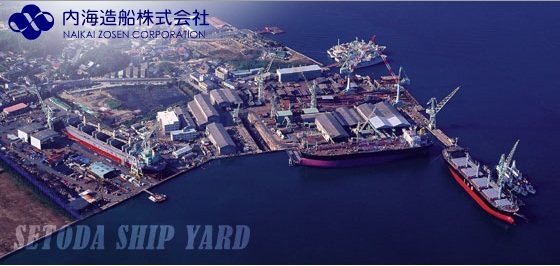 <![endif]>
Aerial view of Naikai Zosen yards, Setoda (Photo from Naikai Zosen website)
When I was a child, my passion for ferries  was entirely based in studying all the brochures of ferry companies, which never lacked in my house due of my father's work; the ship's facts published in these brochures was for me something like the Bible, and for me the main features to be considered about a ferry were the passengers capacity, the car capacity and their on-board services; every year these depliants were filled by new ships and I was astonished by Greek shipowners, which every year invested in new tonnage. In 1990, Strintzis Lines's brochure appeared to be very interesting, with six round trips between Ancona and Patras (four via Corfu / Igoumenitsa and four via Dubrovnik / Corfu), with the well publicized "Stop Over" option, available for Dubrovnik and Corfu, which gave to the passengers the chance to break their trip in Corfu or Dubrovnik and then to board again to the final destination for free, a choice which is not anymore offered by the companies, with the six round trips between Ancona and Split, and, above all, two new ferries: they were the sister vessels of "Ionian Galaxy" and "Ionian Harmony", respectively named "Ionian Island" and "Ionian Fantasy", which replaced on Strintzis Lines's Adriatic services the "Ionian Sun", diverted to Aegean sea services, and the "Ionian Star", sold to other operators after 14 yeaars of loyal service. The picture of "Ionian Island" published on Strintzis's brochure revealed a full sister of the "Ionian Galaxy", the ship which introduced also in Greece in 1988 the "cruise ferry" concept, allowing Strintzis Lines to create their slogan "Your holiday begins on board" and which was the flagship of the fleet for two years. The timetable assigned to "Ionian Island" had two sailings from Ancona, on Monday at 21.00 and on Thursday at 23.00 to Corfu (Tuesday at 19.00 and Friday at 21.00), Igoumenitsa (Tuesday at 21.00 and Friday at 23.00) and finally Patras (Wednesday and Saturday 07.00); the ferry sailed back from Patras on Wednesday at 13.00 and on Saturday at 22.00, calling at Igoumenitsa (Wednesday 20.00 and Sunday 07.00) and Corfu (Wednesday 22.00 and Sunday 09.00) on her way to Ancona, where she arrived on Thursday at 20.00 and on Monday at 08.00; this timetable was very particular, providing the noon sailing required to maintain the two weekly round-trips from Patras instead of Ancona, as all the other companies did, and the inverted order of call in the ports of Corfu and Igoumenitsa rather of that done by the other companies (first calling at Corfu sailing from Ancona and first calling at Igoumenitsa sailing from Patras), a choice which allowed to save an hour on the overall trip. My first date with Ionian Island was on a Thursday night of June, 1990: I wasn't yet informed on ships and I didn't have thought yet to spot the ferries, I was very excited about travelling on the new Strintzis ferry: a passenger capacity of 1.700 and 600 cars was a very interesting figure, even if that new company, Anek Lines, had two "bigger" ferries, the Lato, with 2.000 passengers and 850 cars, and the Lissos, 1.800 passengers and 600 cars; also Marlines had two ferries with bigger passenger capacity, the Queen M, with a figure of 2.000, and Countess M, 1.800, plus a very nice livery with these green, red and blue stripes, but they had a smaller car capacity! And guess what are meaning these numbers on Marlines brochure about GRT… anyway, from Strintzis brochure Ionian Island displayed also restaurant, self service, air conditioning, swimming pool, disco, babyland, piano bar, bars, cinema, casino, airplane type seats…it's not easy to remember all the services on board, and not may ships have more services on board…she's arriving, it's time to board!
<![if !vml]>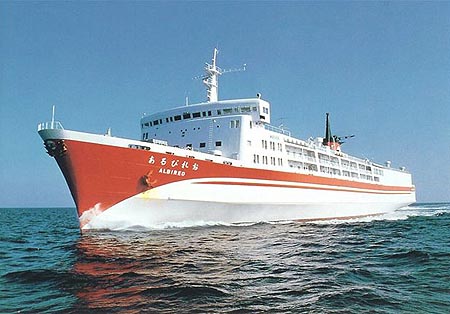 <![endif]>
The Albireo under  Taiheiyo Enkai Ferry's original red-white livery
<![if !vml]>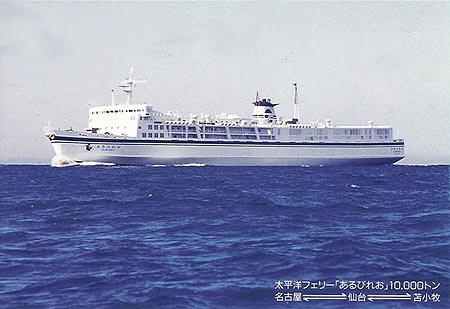 <![endif]>
The Albireo until current Taiheiyo Ferry's colours
<![if !vml]>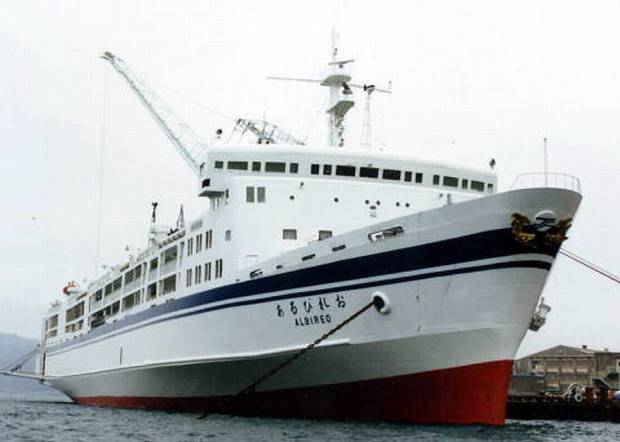 <![endif]>
Another image of the ferry with Taiheiyo Ferry livery. (Nautilia.gr)
That time, travelling without car, we boarded like we did on Ionian Galaxy, walking through the stern car ramp beside cars and trucks. I was wondering why Ionian Island hadn't a specific passenger ramp as the King Minos or the Lato…and another ferry, the Fedra of Minoan Lines, had two ramps for cars plus a very high funnel…a little bit unusual ship!!! Before entering the stairs for the upper decks I had a look to the main garage, usually occupied by trucks and trailers: at the entrance another particular matched my attention: the ship had three road signs above the stern door, the speed limit, the maximum height admitted and the "priority" signal. At the end of main garage, very close to the bow, there was the entrance to the lower garage, enclosed by a cover. I was that garage only in 1994 and I was impressed by the floor, made of grid, which allowed to see the keel structure under it. I had anyway the chance to see earlier the upper garage, in 1991, when my mother decided to take the car in Greece: the cars came up by a ramp on port side, and the garage, this one with a conventional floor, occupied an area of little less than a half of deck 1 and, as it is on Ionian Galaxy,  both sides had large openings to change the exhaust air. The remaining part of deck 1, as the Ionian Galaxy, was divided between passenger cabins and crew area, even if the Ionian Island has large windows on sides instead of the covered promenades of her sister. So why the brochure displayed the same promenades of Ionian Galaxy if Ionian Island was different? This wasn't  the only difference with the picture of the brochure: finally also Strintzis Lines painted the company name on ferry, inserted between three stripes on each end, the external ones in white, the internal one in red. I remember that my mother and my sister didn't appreciate that painting, but all our family was enthusiast of the lamps installed on grand pavois, another feature which improved a lot the ship's look when in port at night. This ship has also another new feature which doesn't appear from the brochure, an escalator which is beside the main stairs, starting on port side. The stairs and the escalator are leading to deck 1, where is the entrance to car deck, and then to deck 2, where it ends in the reception hall, very bright and luminous, dominated by reception and chief purser desk, which also works as exchange office. At the end of these desks, on the right side, we find also an "English style" phone cabin, with red door, leading to the satellite phone. Back to the stern, we find the entrance of the Disco, of which the big windows at stern give the chance to dance viewing the sea. The Disco, together with casino and cinema, is the only public space I never saw of this ship, but I have a particular memory of this lounge: when the ship called at Corfu or Igoumenitsa on evening, I enjoyed very much watching the disembarkation of cars and trucks from the deck 3, at the stern, and from the windows of the Disco I was able to see the flashes and multi-colour lights of the dance floor. The entrance hall of deck two gave also access to the Casino, which had true playing tables, instead of the electronic machines which replace the roulette or the black-jack table on today's ferries, a bar and a card room;  then on that hall we found also stairs to deck 3 and a little beauty corner, which however I never saw in use.  Exiting the hall, walking towards the bow, there was a spacious corridor which leads to all the other public spaces of deck 2, which on Ionian Island was entirely dedicated to leisure space: this was a new feature on Italy – Greece ferries, as long as on the other ferries, including her sister Ionian Galaxy, the leisure spaces were located on different decks; the main corridor was divided in two minor corridors, one at port side and the other at starboard, by the shops, which had a rhombus-shape. Anyway, before getting into the shops, we can find the entrance of Babyland at port side and the entrance of Cinema at starboard; this was a new feature introduced on Italy – Greece ferries by "The Blue Ships" company; soon after these spaces there were stairs on each side to deck 3. Speaking of the shops, I've to tell a very important fact of my shiplover's career which I'm glad to say that happened on this ship. During a sailing in 1994, I saw between the few books of the shops a small one, which had a ferry on the front page, and was written in English: its title was "Greek Sea Bridges" and the authors were an English photograph, named Stanley Sturmey, and his Greek wife, Katerina Kalogelopoulou Sturmey. During a quick watch I saw that was displaying a lot of ferry photos and comments about the ferries pictured: for a boy which started spotting ferries only a year before it was a fabulous book, so I bought it and I ran to my cabin to start reading. When I opened the "Ionian Island" page I was astonished: the ship I was sailing on, which I believed four years old, was instead seventeen years older than these four years, a period spent sailing under "Albireo" name; I was astonished the same way when I discovered that she was built in Japan and not in Greece. Anyway, the Ionian Island was not the only ferry older than the age I thought she had and Japanese-built: the same was for her sister Ionian Galaxy, and also for Anek Lines's Lato, Lissos, Kriti, Kydon, Candia, Rethymnon, the Minoan Lines vessels El Greco, Daedalus, Erotokritos, King Minos, N. Kazantzakis and the Fedra, which wasn't Japanese but was not so young; the DANE's Patmos and Knossos and many others; some ferries were built in Northern Europe and were more "lived" like Ariadne, Festos and Knossos, which had also a sister vessel operating for Maritime Company of Lesvos, the Eolos of Fragline, the Egnatia of HML, the DANE sisters Kamiros and Ialyssos, some very old ships like the Panagia Tinou and Silver Paloma, and finally the Italian-built vessels, only three (the Dimitra, the Poseidon Express and the Lindos), even if I thought until this moment that Italy had a great shipbuilding tradition. The only ferry which wasn't nearly "adult" was the new Anek Lines flagship "El. Venizelos", delivered a year before to the Cretan company. I discovered also other facts: reading at the datas published on the book, many of these were different with those published on ferry companies's brochures, particularly those about passenger capacity and speed. The things about ferries were far different from those I believed until that moment and I wanted to learn more, but this wasn't possible until 1998, when I had an internet connection at home for the first time. Anyway, I would like to contact the authors of "Greek Sea Bridges", which later wrote also another book on the same matter, "More Greek Ferries", in order to buy both books; if they read these pages, I would be glad if they contact me at my mail address mlulurgas@hotmail.com . But let's go back on Ionian Island,  in 1990: after having passed the shops, we find the entrance to a-la-carte restaurant, on starboard, and the entrance of Cafè Vienna at port side, a new feature of this ship, which was absent on Ionian Galaxy, with classic furnishing and a very luminous ambient, thanks to the great number of windows on the external side; from the Cafè Vienna hall there are also stairs to deck 3: another feature which is particular of these ships is that they hadn't the stairs as we are used to see nowadays, ordered in regular stairwells, but were distributed almost everywhere without influencing the ship's interior design. At the end of Cafè Vienna we can find the Belvedere Lounge, characterized by bright blue armchairs, which proceeding to the bow gets larger until the entirely breadth of the ship, forming an atrium. From this atrium there were two exits, which led to stairs for deck 3, the lift and another elegant stairwell, which improved very much the overall look of the atrium; from there, we can also get access to the last two public spaces of deck 2, the Piano Bar, at bow, and the Self Service, which occupied the correspondent area of Belvedere Lounge on starboard. That time I remember I used to go to Self Service for dining on board, and I remember the long queues which often arrived also to the exit of Cafè Vienna, waiting to enter the lounge characterized by white and light pink colour scheme. On Greek ships, often the cooks are coming from Lakonia region and the Chief cook of Ionian Island was a neightbour of mine from the little town of Demonia Lakonias; I remember that he often wanted to give us some Greek delicatessen! Last public space of deck 2 was the Piano Bar, at bow, with its wooden bar and the characteristic black piano, which was anyway an electronic keyboard, between the red, light purple and pink armchairs!
<![if !vml]>
<![endif]>
Escalator (Fakta om Fartyg)
<![if !vml]>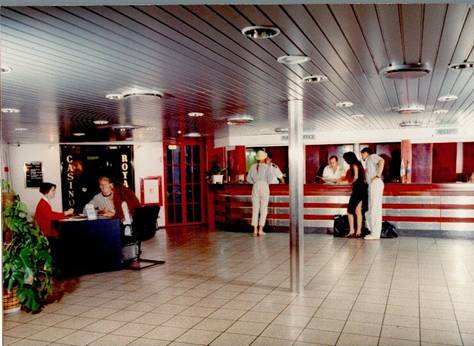 <![endif]>
Reception Hall (Fakta om Fartyg)
<![if !vml]>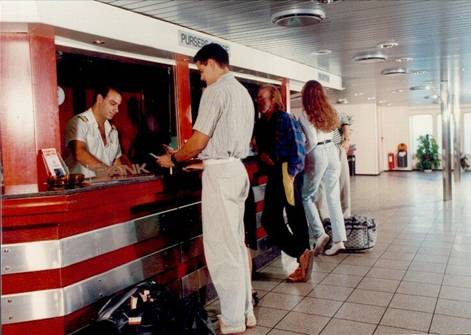 <![endif]>
Purser's office – Bank/Exchange (Fakta om Fartyg)
<![if !vml]>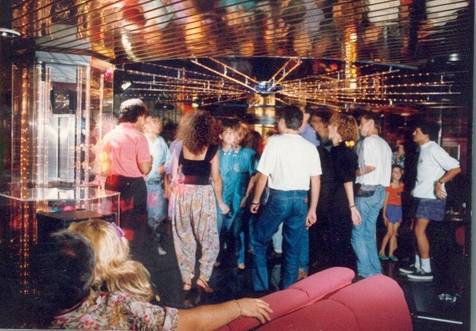 <![endif]>
Disco (Fakta om Fartyg)
<![if !vml]>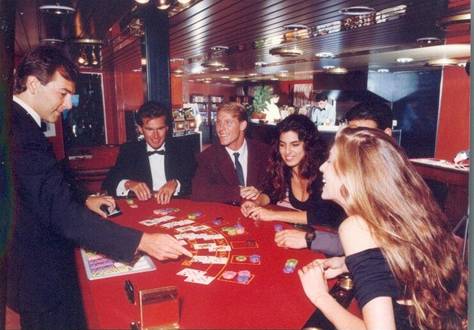 <![endif]>
Casino (Fakta om Fartyg)
<![if !vml]>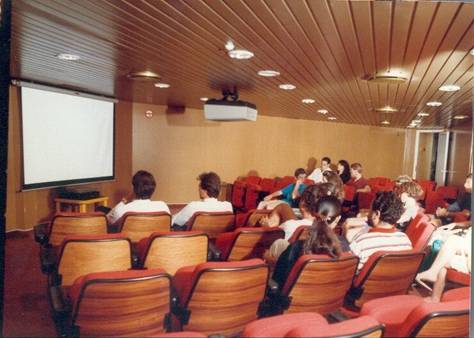 <![endif]>
Cinema (Fakta om Fartyg)
<![if !vml]>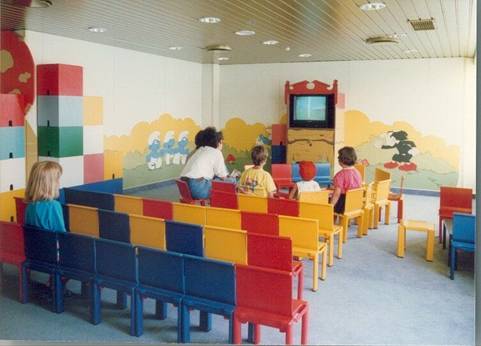 <![endif]>
The babyland (Fakta om Fartyg)
<![if !vml]>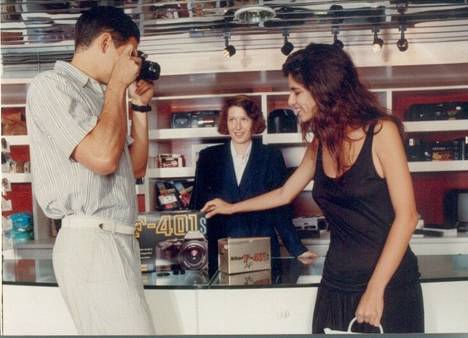 <![endif]>
Shop (Fakta om Fartyg)
<![if !vml]>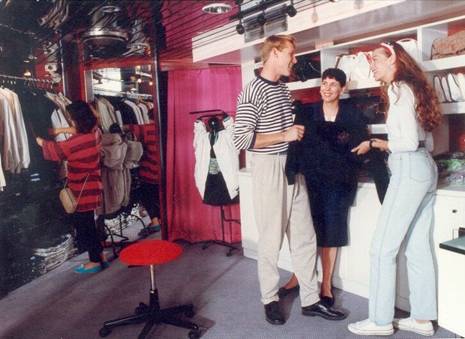 <![endif]>
Boutique (Fakta om Fartyg)
<![if !vml]>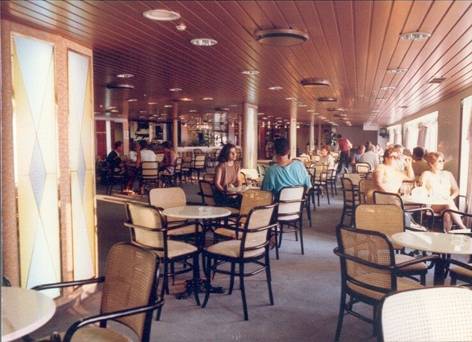 <![endif]>
Cafè Vienna (Fakta om Fartyg)
<![if !vml]>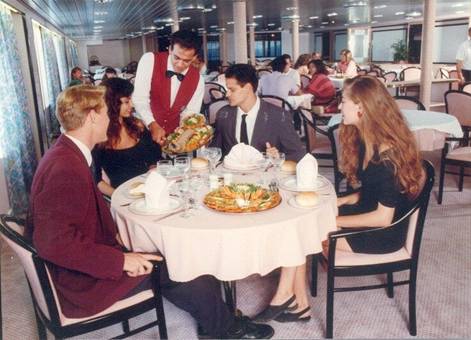 <![endif]>
Ristorante a-la-carte (Fakta om Fartyg)
<![if !vml]>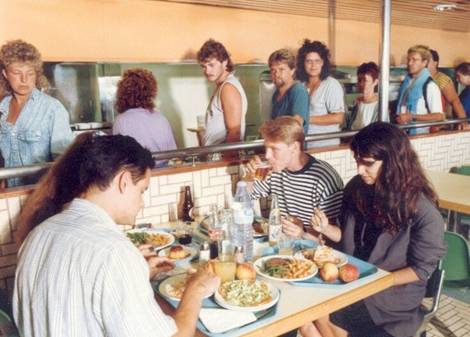 <![endif]>
Self Service (Fakta om Fartyg)
<![if !vml]>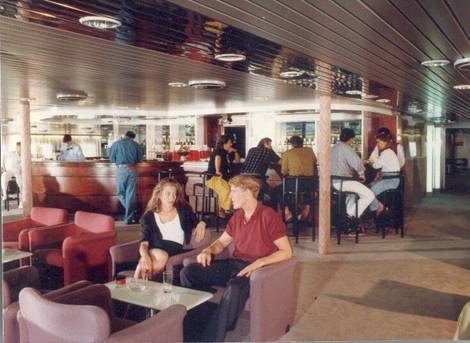 <![endif]>
Piano Bar (Fakta om Fartyg)
<![if !vml]>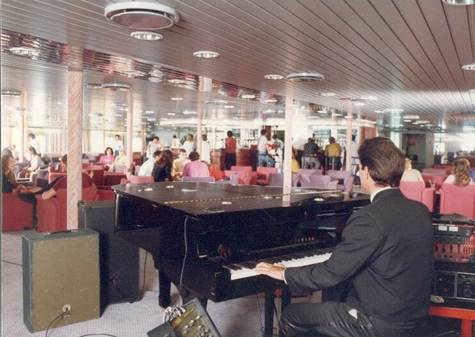 <![endif]>
Piano Bar (Fakta om Fartyg)
Comung up to the deck 3 from the bow atrium, we find ourselves in the heart of Ionian Island's night zone. The cabins are located along two main corridors, at port side and at starboard, where we find the cabins, the outside ones with odd number, the inside ones with even number. I can remember well the "Trioving" keys, matched with a translucent keychain, opening the dark green doors, which were very impressive on the light corridors; the cabins, both inside and outside ones, had carpeted floor and wooden furnishings. The cabins were available with two, three or four beds, with upper foldable berths except for B-class cabins, which were equipped only with washbasin. The outside cabins of deck 3 were not "privacy-friendly", as long as the cabin windows were directly on promenade deck. Before having a look to deck 3's public spaces, we must talk about the ship's particular cabins located on this deck. Strintzis Lines usually didn't offered LUX cabins, as the other operators did, and if the ferries had these type of cabins, they weren't publicized on company's brochures; anyway Ionian Island was equipped with six LUX cabins, four directly on the bow, two on sides, and they were identified by both a 3xx series number and a Ionian island's name: the six island chosen were Corfu, Cephalonia, Kithira, Zante, Lefkas, Ithaca. On starboard corridor anyway, there was also the 325 cabin, which was identified on deck-plans as "private"; probably this is the Owner's cabin, being large as three ordinary cabins. I don't know if the cabin was used or not, being left free for VIP passengers, and I'm still very curious to know it. Walking towards the stern we can find a little area with three videogames; these are just in front of the sauna, which anyway was not publicized on depliants and probably not used. Just after this area we can find the exit to the swimming pool area; just after the door there is the pool bar, and then the swimming pool, surrounded everywhere by plastic armchairs. The swimming pool was usually filled after the first night of crossing, but the pool area was most polulated when the ferry called in port, with the passengers observing the port manoeuvre. Another feature of open deck was that it hasn't the wind shelters  as we are used to see today, but it must be said that the speed was not the same…
<![if !vml]>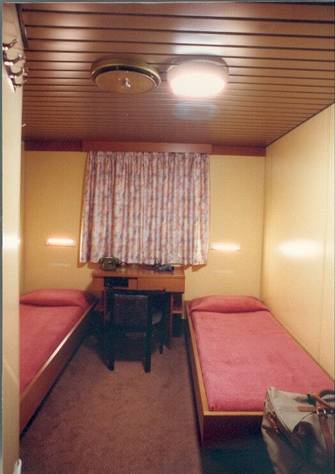 <![endif]>
Two berths outside cabin (Fakta om Fartyg)
<![if !vml]>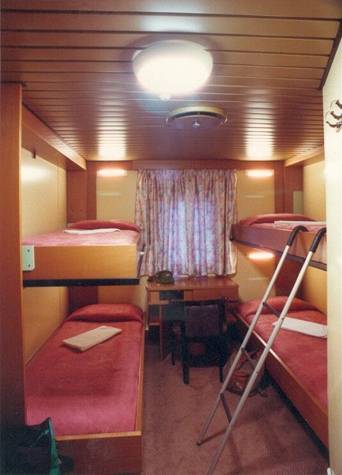 <![endif]>
Four berths outside cabin (Fakta om Fartyg)
<![if !vml]>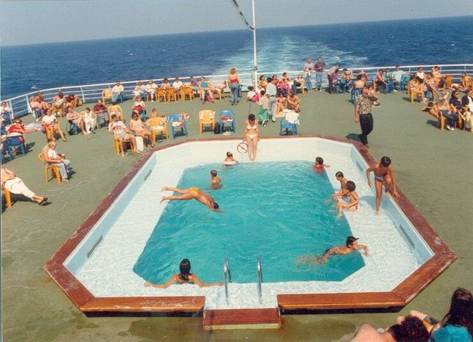 <![endif]>
Swimming Pool (Fakta om Fartyg)
Ionian Island's life goes on without any significant event also in the following years: in 1991 she maintained the same schedule of 1990, but after a reduction in Strintzis Lines's summer services, was matched only by Ionian Galaxy on Ancona line; the Ionian Sea, which was for my 11 years old mind another new ferry, was added only in a second moment. In 1991, for the first time after years, I had the chance to travel with another company: my father booked us for the return trip from Greece on Anek Lines's flagship, the Lato. I felt that time like a traitor, being a sort of Strintzis Lines's hooligan: today, looking at these years with a shiplover's eye, I'm very disappointed that these treasons were so few, having lost the chance to travel on many interesting ferries of that time: surely the Marlines's Countess M, Crown M and Dame M, the Lissos, which I took only once in 2006 after the great alterations made to her original after-rebuilding interiors, the Kydon and, of course, all Minoan Lines vessels revised by the genial Arminio Lozzi such as the El Greco, the Fedra, the Daedalus (which was usually by chance sailing along to Ionian Island when I travelled aboard her, even if Minoan hadn't a fixed timetable), the King Minos, the Ariadne, the Festos. Even if I was impressed a lot by the Lato, and this trip was very significant for me because it contributed very much to enlarge my view about ferries, starting to admire ANEK vessels and the Lato herself, my heart remained "deep blue" and beating for Ionian Island; I was divided between two feelings: the first one wanted Strintzis Lines to answer the competition from ANEK introducing a newer and bigger ferry than the Lato, but on the other side I hoped that Ionian Island would remain Strintzis Lines's flagship for a long time. Only after some years I discovered that in 1991 Strintzis Lines had the chance to introduce Lato's sister vessel, having bought the Japanese ferry "Ishikari", which was to be renamed "Ionian Express", but they sold soon the vessel to Minoan Lines, receiving from the Cretan company their "Superferry". With this agreement Strintzis Lines lost the chance to introduce a real "super ferry", while Minoan Lines gained their "Erotokritos", a ship which contributed to the Heraklion-based company's fortunes for 11 years.
<![if !vml]>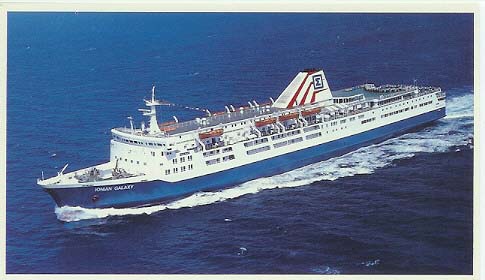 <![endif]>
Ionian Galaxy: this photo was used on Strintzis Lines's 1990 brochure to represent the Ionian Island (Official Strintzis Lines postcard)
<![if !vml]>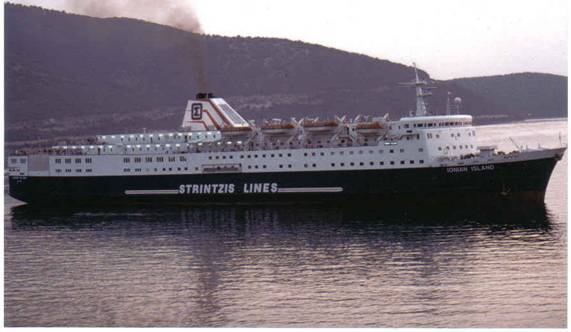 <![endif]>
The Ionian Island at Igoumenitsa, 1993 (Emilio Barenghi #2873)
<![if !vml]>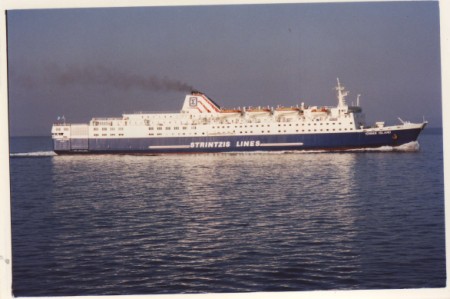 <![endif]>
The Ionian Island (Rossella Balaskas #9648)
 In 1992 and 1993, there weren't any changes in timetables for our vessel, sailing from Ancona to Corfu, Igoumenitsa and Patras on Monday at 21.00 and on Thursday at 23.00, coming back from Patras on Wednesday at 13.00 and on Saturday at 22.00; these years anyway Strintzis Lines's services out of Ancona were based on a two-ship timetable, with the Ionian Sea employed on a ephemeral Bari – Corfu – Igoumenitsa line for 1992 season, deleting her from any timetable in 1993; in the meantime Minoan Lines offered for the first time a daily Ancona – Corfu – Igoumenitsa – Patras service leaving every day at the same time using four vessels, and also for the first time a direct Ancona – Patras express line, connecting the two ports with the newly-introduced "Erotokritos" in only 24 hours, instead of the about 32 hours taken by the other ferries sailing from Ancona to Patras via Corfu and Igoumenitsa; Anek Lines instead introduced on Adriatic services the gigantic "El. Venizelos", described on ANEK brochures as the biggest ferry in the Mediterranean Sea; nowadays she has lost that title (to Napoleon Bonaparte in 1996), but she's still the Greek bigger ship, due to 61 gross registered tons more of Minoan Lines twins Europa Palace and Olympia Palace (the newer Cruise Europa and Cruise Olympia are bigger, but as long as they are flying the Italian flag they can't be considered true Greek ferries). That time, being only 13 years old, I couldn't understand how big could it be that ferry, or that the Lato, the former Greek bigger ferry, was "a Talos" smaller than the El. Venizelos, anyway I remember well 1993 summer for two reasons: that was the Summer I started taking ferry photos (I still remember my first shot, taken in Ancona, with the Crown M spotted at the same quay where usually today are moored the ferries of Blue Line International, with a Renault "4" occupying most of the photo…), and this year I made my second treason, which in my mind was a high treason: sailing on the "El Venizelos" for the return trip from Greece, I betrayed both Ionian Island and Strintzis Lines, and the Lato, which was deprived by the El. Venizelos of the flagship role in ANEK fleet. Also that time an ANEK ferry impressed me very much, and after 17 years I still remember with pleasure the Venizelos, but the Blue Ship had a more familiar feeling, totally absent on the big flagship coming from Northern Europe.
From 1994 onwards the Ionian Island started to be involved in various route and timetable changes: I still clearly remember the first saw to Strintzis Lines's 1994 brochure, in my room at home, starting to read the blue brochure before all the others which my father brought me from BIT fair in Milan: finally there were big moves in Strintzis fleet! The Ionian Sun was back in Adriatic sea after five years, even if she wasn't rerouted to Ancona, but started a forerunner of the nowadays well-known low-cost services, sailing between Brindisi, Corfu and Igoumenitsa with fares starting from ITL 32.000/DRS 5.000,, which are corresponding to 23,54 Euros of 2009, according to ISTAT; a new ferry, the "Ionian Star II", was sent to Ancona: she had a passenger capacity of 850 pax and garage space for 900 cars plus the camping on board service, but lacked many services that cannot be renounced, like a-la-carte restaurant. Swimming pool, babyland, piano bar. About the Ionian Island, we should say that after five seasons the timetable was altered: the ferry sailed from Ancona still on Mondays, but anticipating her departure at 13.00, arriving the next day at 11.00 in Corfu, at 13.00 in Igoumenitsa and at 20.00 in Patras, sailing back at 23.30 on Tuesdays to Corfu (Wednesday 07.00), Igoumenitsa (10.00) and Ancona, arriving there on Thursdays morning at 08.00. From Ancona, the ferry sailed back at 21.00, arriving on Friday evening at Igoumenitsa (20.30), Corfu (22.00) and finally on Saturday morning at Patras at seven o'clock. In 1994 my two sailings between Italy and Greece were divided between Ionian Island and the new Strintzis ferry Ionian Star II: the second impressed me very much because the crew was mainly composed by Italians and the ferry was registered in Palermo, flying the Italian Flag, a very odd fact for a Greek company, and was also without the "II" suffix at the end of her name; the Ionian Island instead was little altered from the previous year, having added a small third shop in the Cafè Vienna area adjacent to the walkway to the stern, and, as I told before, that time I bought the book "Greek Sea Bridges".
<![if !vml]>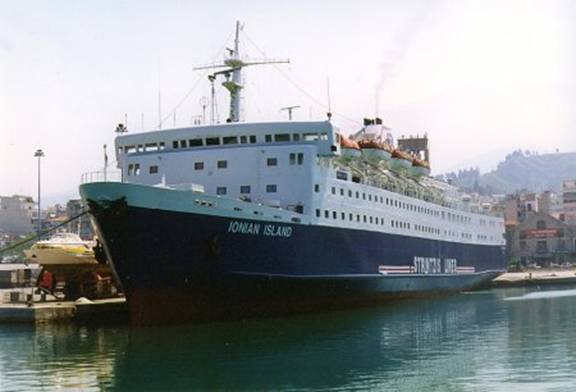 <![endif]>
The Ionian Island at Patras,  May 19th, 1996 (George Giannakis #6219)
<![if !vml]>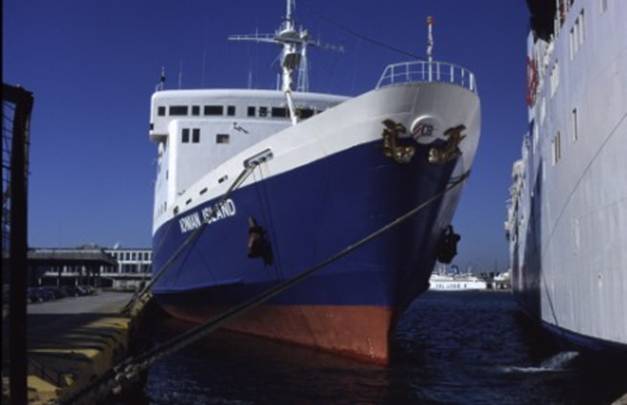 <![endif]>
The ferry at Piraeus (Antonios Lazaris #8275)
<![if !vml]>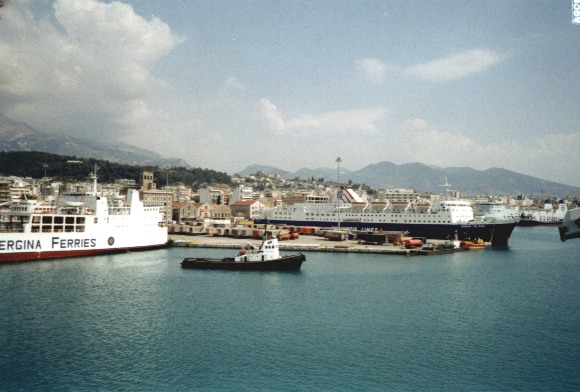 <![endif]>
The Ionian Island in a crowded Patras port, June 19th, 1995 (Michele Lulurgas)
The following year was the "Revolution Ti,me": in 1995 a new company, which was named Superfast Ferries, introduced between Ancona and Patras two brand-new ferries, which were able to reach a top speed of about 27 knots, cutting the crossing time on the direct link Ancona – Patras in only 20 hours. This was a very important challenge to all the Greek ferry scene as it was until that moment, and nobody was able to answer the competition of the new red ferries, even Minoan Lines which was awaiting the delivery of a new highspeed ferry from Norway, the first newbuilding of Minoan Lines's history. Strintzis Lines, which hadn't any chance to offer similar services, made a very smart move signing a joint-venture with Minoan Lines on international services for 1995 and 1996 seasons, attempting to survive the new competition. The first draft of timetable for 1995 season provided four different services for the combined Minoan – Strintzis fleet: the Brindisi line, with the Ionian Sun, was confirmed as it was the previous year; the services between Ancona and Patras were instead divided in two different branches; the express line, with the Minoan newbuilding Aretousa, the other Minoan ferry Erotokritos, and Strintzis Lines's Ionian Star, which in fact wasn't so "express", being able to connect Ancona and Patras on direct sailings in 27 hours against the 24 required for the two Minoan ferries, then the classic line, linking Ancona and Patras via Corfu and Igoumenitsa, where seven ships, the two Strintzis Lines flagships Ionian Island and Ionian Galaxy, plus five Minoan Lines vessels, the Ariadne, El Greco, Daedalus, Fedra and Festos made each one a weekly departure from Patras at 22.30, arriving two days later in Ancona at 08.00 and sailing back to Corfu, Igoumenitsa and Patras at 13.00, arriving back in Peloponnese's main port the day after at 20.00; after three hours the ferries were expected to sail back to Italy, calling at Corfu and Igoumenitsa before proceeding to Trieste. This was the new line which the Minoan – Strintzis joint venture wanted to introduce in order to compete with Anek Lines, which was the monopolist on Northern Italy – Greece routes until that moment. On this provisional timetable the Ionian Island was expected to sail on Saturday from Ancona to Corfu, Igoumenitsa and Patras at 13.00, on Sunday from Patras to Corfu, Igoumenitsa and Trieste at 23.00, then on Tuesday evening at 18.00 to Corfu, Igoumenitsa, Patras, and finally from Patras on Thursday at 22.00 to Corfu, Igoumenitsa and Ancona. Anyway, the plans of Minoan-Strintzis joint-venture were heavily changed when the official brochure was printed: the seven vessels were divided between the new line and the Ancona classic line in order to serve only an Italian port; the Ionian Galaxy, Ariadne and Festos were assigned to Ancona line, the Ionian Island, together with the Daedalus, the El Greco and the Fedra, was assigned to the new line, which was based in Venice instead of Trieste; the Venice – Corfu – Igoumenitsa – Patras timetable provided daily departures from Venice at 18.00 and from Patras at 22.00, calling at Corfu and Igoumenitsa en route to the final destination. The following season, nothing changes for the Ionian Island which remained on Venice line; anyway the service was not anymore daily due to the deployment of the El Greco to another service, being effected five times a-week, and the departure from Venice was anticipated at 17.00.
<![if !vml]>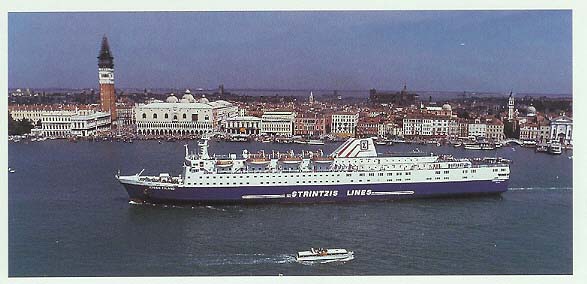 <![endif]>
Sailing through Giudecca Canal, Venice (Official Strintzis Lines postcard)
<![if !vml]>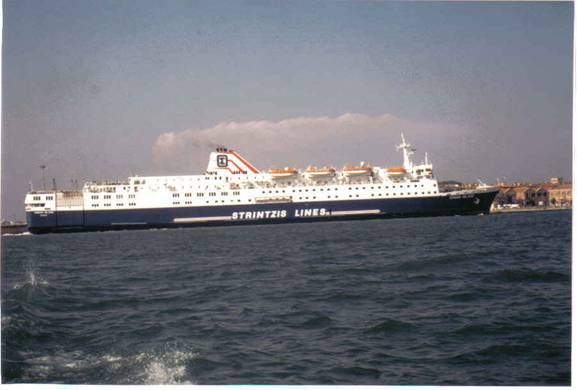 <![endif]>
Another shot at Venice, 1998 (Emilio Barenghi #2877)
<![if !vml]>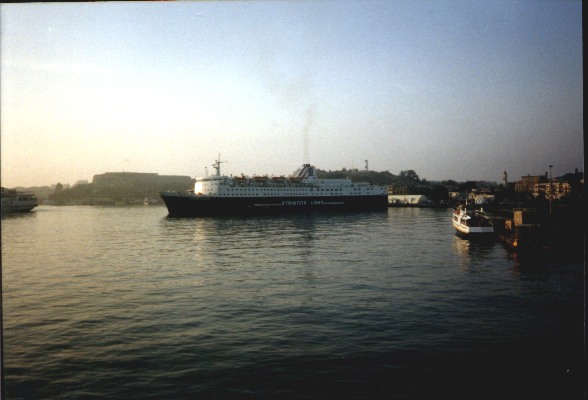 <![endif]>
The last time I saw Ionian Island, Corfu, July 13th 1997 (Michele Lulurgas)
In 1997 Minoan – Strintzis partnership came to an end; the two companies anyway chose two different ways to compete with the new main character of Ancona line, Superfast Ferries; while Minoan enforced its presence at Venice with four vessels and ordered two more highspeed ferries for Ancona services, using for 1997 season only the Aretousa at Ancona with a 22-hour crossing time, Strintzis introduced only a new vessel at Brindisi, doubling the sailings between Brindisi and Igoumenitsa; anyway, the "Ionian Bridge" wasn't competitive in any way with the new rulers of Adriatic Sea, excepting for the good garage capacity. Strintzis Lines had only three slower vessels to operate on two long routes, the Venice one and the Ancona one, and decided to offer four round trips to Ancona and two to Venice with bargain prices and interesting family offers, helping the company to survive the competition of high-speed ferries and also of Anek Lines, which hadn't such ferries but introduced that year two 24-knots ferries. The Ionian Island anyway, this year, took the full flagship role, being employed on main sailings instead of the Ionian Galaxy, who had that role until the joint-venture with Minoan Lines: she was engaged in the 17.00 departure from Venice of Saturday afternoon to Igoumenitsa, Corfu and Patras, where she arrives on Monday morning at 08.00, sailing back at 23.00 to Corfu, Igoumenitsa and Ancona, where she lands on Wednesday morning at 08.00; from Ancona she sailed back at 12.00 to Corfu (Thursday 09.30), Igoumenitsa (Thursday 11.00) and Patras (Thursday 18.30) and finally from Patras to Venice on Thursday at 21.30, arriving at Venice on Saturday at 09.00 after calling the previous day at Igoumenitsa (05.00) and Corfu (07.00). This year I took the ferry for the last time, sailing on a Wednesday noon from Ancona to Corfu; two days later I took the last photo of her, during her morning approach to Corfu, before sailing to Venice. In the same Summer, I saw her for the last time, in Patras, berthed along the Patras terminal. I was waiting the embarkation time for my sailing on Superfast I and, walking on the quays, I observed two details which revealed her past life as "Albireo": at the stern, next to the side ramp, the old "Albireo" name was clearly visible under some coats of paint, together with Japanese ideograms. I felt a very strange sensation, like seeing someone who is not in his best times, but continues to challenge with younger ones. At bow, I instead noticed a particular which, until that moment, seemed to me a laurel crown: they were instead  two fishes with the mouth well opened, showing their teeth, surrounding a logo which I never saw on Strintzis Lines's brochures. These two fishes had a slightly frightening look, and I recalled the surrounded logo very easy when, some years later, I saw an identical logo on a funnel: it was the logo of Taiheiyo Ferry, which I didn't know that time it was the former owner of the vessel. The following year, nothing changes for the Ionian Island; the only change is in Strintzis Fleet, with the Ionian Victory replacing the chartered Ionian Galaxy.
In 1999 Strintzis Lines began to answer to the competition not only with low fares, but also with a competitive service. Even if Superfast Ferries connected Ancona and Patras directly in 19 hours and Minoan Lines offered six weekly sailings from Ancona to Igoumenitsa and Patras, with a crossing time of 15 and 20 hours respectively, the company, after the purchase of a second 24-knot vessel, was able to offer direct Patras – Ancona sailings in 23 hours plus a timetable with nine weekly sailings from Patras, four to Igoumenitsa – Corfu – Venice, and five to Ancona, of which three with direct express timetable in 23 hours and two via Igoumenitsa – Corfu with the classic timetable. The Ionian Island, being unable to perform the express timetable, was engaged in a fixed timetable which provided  a Patras – Igoumenitsa – Corfu – Venice sailing on Monday at 21.30, then from Venice to Igoumenitsa, Corfu and Patras on Wednesday at 17.00, arriving in Patras on Friday morning at 08.00; she leaves again from Patras at 13.00 to Igoumenitsa, Corfu and Ancona, arriving in Italy on Sunday night at 20.00 and departing again at 23.00 to Igoumenitsa, Corfu and Patras. It's interesting to notice that the Strintzis's 1999 timetable provided also a Saturday evening departure from Ancona, which is usually done by the flagship ferry, but Strintzis instead placed the Ionian Galaxy on that timetable. Anyway, the 1999 season of Ionian Island provided also sailings to a third Italian port: due to the accident occurred to Superfast III and to the takeover of Strintzis Lines by Attica Enterprises, parent company of Superfast Ferries, occurred on August 1999, the Ionian Island was chartered to replace the Superfast II, which herself replaced the Superfast III at Ancona. The Ionian Island, according to the timetable published by Superfast Ferries, took only an hour more of the Superfast I for the Patras – Bari crossing, but she didn't call at Igoumenitsa, instead of the Superfast I.
On 2000, the career of Ionian Island suddenly came to an end, giving birth to the very shorter one of Blue Island. The new major stakeholder in Strintzis Lines, Attica Enterprises, decided to change the name of the company, reducing the historical "Strintzis Lines" mark to some small letters next to the new company name, Blue Star Ferries; on the funnel, instead of the well-known "Σ", we found a star, which is blue on a yellow background on the newer vessels; instead on our Blue Island, like on all the older vessels, the star is yellow on a blue funnel. The company decided to offer a similar timetable to those of Minoan Lines, offering daily sailings on Venice – Corfu – Igoumenitsa – Patras line with the four classic vessels of the company: while the Blue Horizon (former Superferry Hellas) and the Blue Sky (former Ionian Victory) had four stated weekly departures, the other three departures were effected by the Blue Galaxy (former Ionian Galaxy) and our Blue Island. The timetable for the sister vessels had three departures from Venice at 17.00 on Monday, Thursday and Friday, plus three departures from Patras on Tuesday, Wednesday and Saturday at 21.30, with the ferry engaged on Friday departure remaining moored at Patras from Sunday morning to Tuesday evening. Later in 2000, many time after the publication of 2000 timetables and leaflets, the company decided to include a Patras – Heraklion – Patras sailing, leaving from Patras on Sunday evening at 20.00, landing at Heraklion on Monday at 18.00, and, after three hours, sailing back to Patras, where she arrives on Tuesday evening and then she continues to Igoumenitsa, Corfu and Venice. Even if the belated advertising campaign marketed this service as the only Italy – Crete direct link, the timetable on Venice – Heraklion trip was very inconvenient, forcing the passengers to wait 12 hours in Patras and to arrive in Crete at late evening, so the line was ceased after the summer.
<![if !vml]>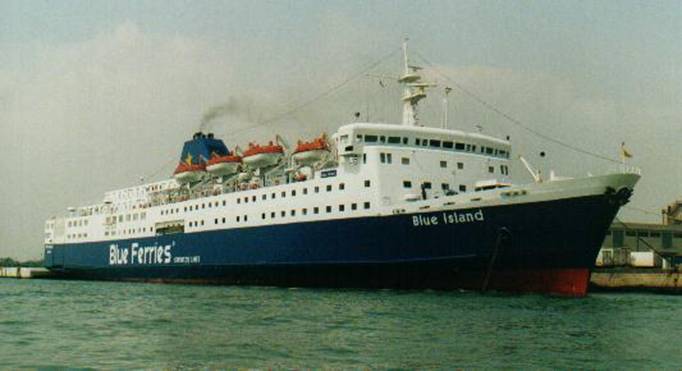 <![endif]>
The Blue Island at Venice (Pieter Inpijn)
<![if !vml]>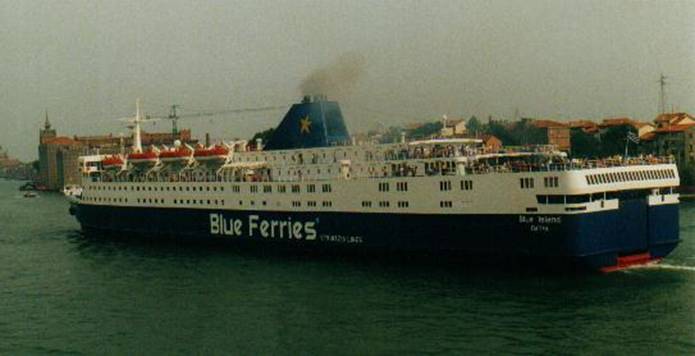 <![endif]>
Leaving Venice (Pieter Inpijn)
<![if !vml]>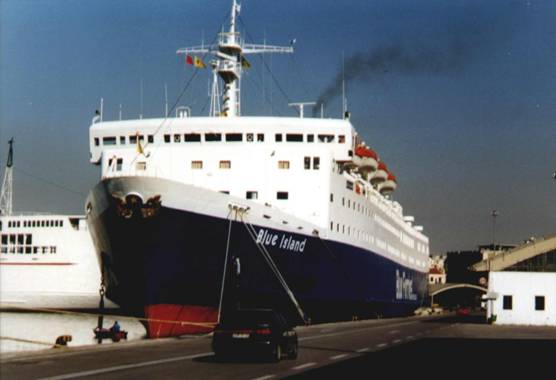 <![endif]>
The Blue Island at Patras, January 2nd 2001 (Michele Lulurgas)
For the 2001 season Blue Star Ferries decides to change heavily its timetables and services, involving also the Blue Island and the Blue Galaxy in these changes: these two ferries were redeployed to a direct Patras – Brindisi service, replacing the new ferries Blue Star 1 and Blue Star 2. The summer timetable, starting in April, provided daily sailings from each port, leaving at 17.00 from Brindisi (arrival at Patras next day at 07.00) and at 20.00 from Patras (arrival at Brindisi next day at 08.00); the low season timetables instead, had only three weekly departures at the same hour, from Brindisi on Monday, Wednesday and Saturday, from Patras on Tuesday, Friday and Sunday. During that period, just after the beginning of the new service, I saw the ship for the last time, even if I didn't know that moment. The Blue Island was moored at Agios Georgios quay, just behind the train station, waiting her evening departure to Brindisi. Even if that time Patras was full of newly-built ferries, more fast, more big, more capacious, the Blue Island was almost perfect and didn't look out of place between them. That time I also made the last shoot to this ferry, and I was able to watch again the bow decoration of the ship: the two strange fishes were repainted and the Taiheiyo Ferry logo disappeared, covered by Blue Star Ferries's star, demonstrating the accuracy of annual refits by the company even if the ferry was not anymore strategic for the company. Anyway I was very surprised when I heard that Turkish Marmara Lines chartered both Blue Island and Blue Galaxy for Italy – Turkey services: our vessel was deployed on Venice – Cesme line, and the Blue Galaxy was deployed on Brindisi – Cesme line. The ferries were reflagged to Panama for this charter, and that times a non-European flag meant the end of their career in Greece. That happened, and the ferry, which was renamed "Cesme 1", once back from the charter was laid up. Moored for all the 2002, at the beginning of 2003 the Cesme 2, former Blue Galaxy, was sold to a Dubai-based company, our vessel anyway remained in Blue Star Ferries fleet and found also a charter for the summer, sailing between Algeria, Spain and France for Algerie Ferries. It was nice to see a so beautiful ferry again in service, but my heart wanted her to be back in Greece. The same charter agreement was signed also for 2004 Summer, but this time, once being redelivered to Blue Star Ferries, wasn't laid up again, but sold to Marco Shipping, the Arab company which had bought from Blue Star Ferries in the previous years the Ionian Sun and the Cesme 2. That sale was the definitive end to any chance to see her again in Greece, but I knew that, even if under the bizarre "Merdif 1" name, she could make someone dreaming as she did with me for so many years.
It's easy to hear something of a ship which sails in the other side of Mediterranean Sea, and also it's not impossible to know something from a Red Sea ship, it's far difficult to know news from Middle East and I was able to see only a couple of photos from the Merdif 1, knowing that she was operating from Dubai to Umm Qasr, this until July 17th, 2010, when I saw the notice of her sale for scrap. This notice left me without any word, only with a great disappointment, a disappointment which grows up when I see ferries like the Ancona, the Arberia, the Grecia, the Venezia, the Lissos, the Lato, the Erotokritos T, the Mytilene, the Theofilos still in service between Adriatic and Aegean sea in 2010; I think that this ferry could also have a place in our ferry scene, according also to her last Greek master, Captain Stanitsas, which affirmed in an interview released to Efoplistis magazine, that she was very well maintained, also during her charter periods to Algerie Ferries. This didn't happened, it seems, according to some rumors, because Blue Star Ferries didn't want to sell her to a competitor. It's a big pity, because even if I know that ship-owning world is a business, the ships are still a matter of heart.
<![if !vml]>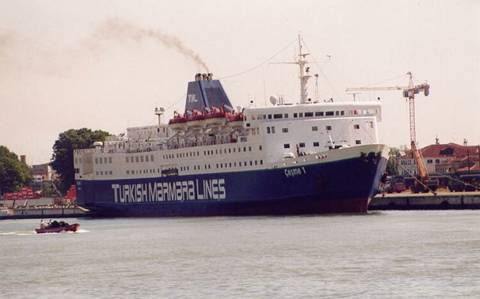 <![endif]>
The ship at Venice with a wrong name (Daniele Miglio)
<![if !vml]>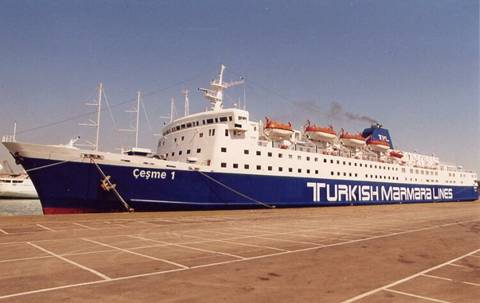 <![endif]>
Another shot of Çeşme 1 at Venice (Daniele Miglio)
<![if !vml]>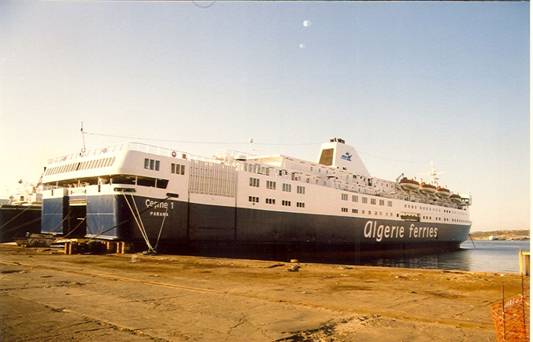 <![endif]>
The Çeşme 1 underAlgerie Ferries livery (Photo A. Molos from www.nautilia.gr)
<![if !vml]>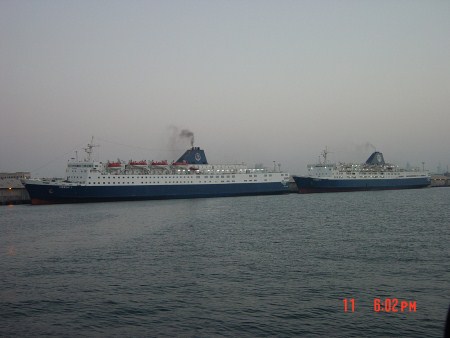 <![endif]>
Merdif 1 and Merdif 2 seen together (Marco Shipping - DSC01198)
<![if !vml]>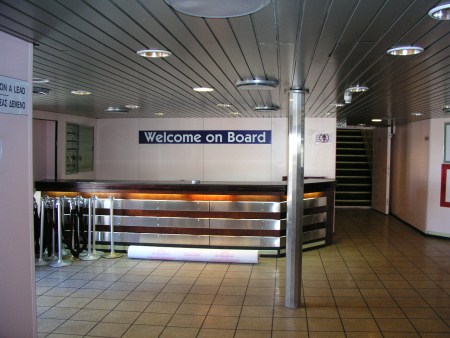 <![endif]>
The foyer seen from escalator(Marco Shipping - P1010052)
<![if !vml]>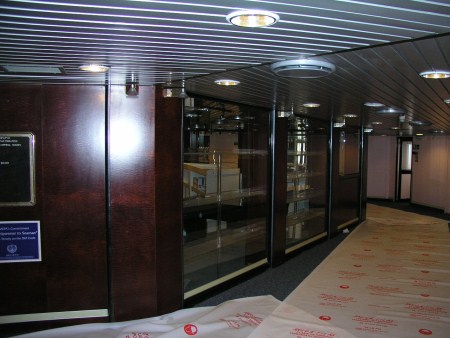 <![endif]>
Shops (Marco Shipping – P1010055)
<![if !vml]>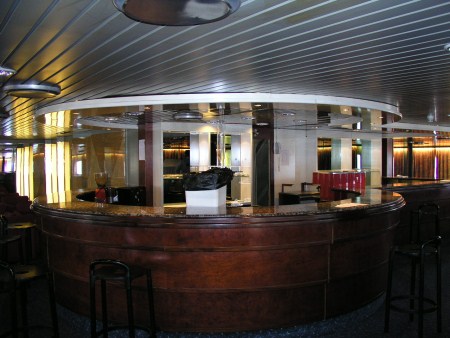 <![endif]>
Bar (Marco Shipping – P1010066)
<![if !vml]>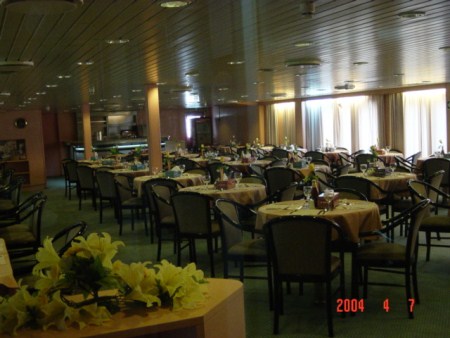 <![endif]>
A-la-carte restaurant (Marco Shipping – P1010067)
<![if !vml]>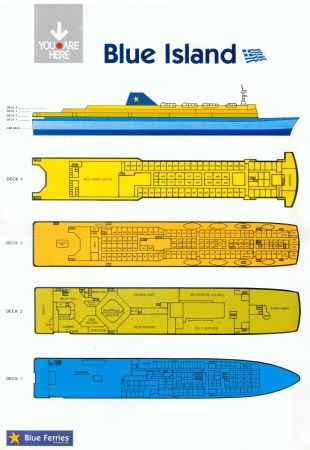 <![endif]>
Deckplan (Fakta om Fartyg)
ALL THE SHIP'S FEATURES IN PDF