F/B IONIAN SEA
<![if !vml]>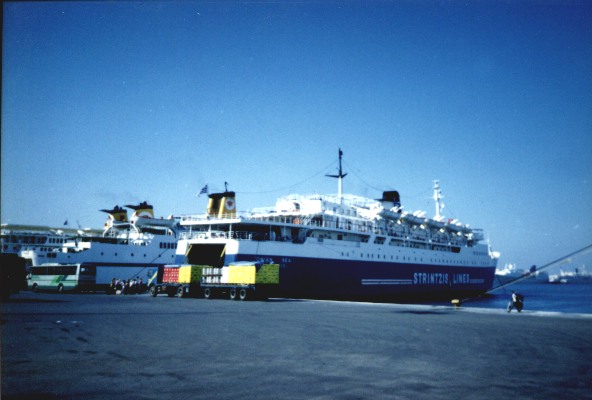 <![endif]>
Photo © Michele Lulurgas , Piraeus Port, 02/09/94
Ship

Ionian Sea (1991)

Building Spec.

1968 at Fincantieri yards, C. di Stabia, Italy N° C648

Call Sign

SXIH

IMO Number

6813485

GRT

5.477

DWT

1.965

Dimensions

126,35 x 19,21 x 5,47

Engines

2 Wartsila, 8.742 kW

Speed

18 knots

Passengers

1.200

Beds

362

Cars

300

Lane Metres

Sister Ships

Al Salam Taba I (scrapped in 2004)

Saudi Moon II (sank in 1982)

Sindibad I (sank in 1992)

Registry Port

Piraeus

Flag

Greek

Former Names/Own.

Canguro Bruno – Traghetti Sardi 1968-82

Canguro Bruno – Trasmediterranea 1978 (charter)

Yum – Fagez 1982-88

Ionian Fantasy – Strintzis Lines 1988-91

Ionian Fantasy – Allways Lines 1989 (charter)

Bihar – Co.Tu.Nav. Tunisia Ferries 1993 (charter)

New Names/Own.

Dimitra – G.A. Ferries 1995-97 (50% owned by DANE)

Leros – Dane Sea Line 1997-01                      

Scrapped in 2001at Aliaga, Turkey

Line
She was built in 1968 by Fincantieri Castellammare di Stabia for Soc. Nav. Traghetto (Traghetti Sardi), which put her on Leghorn – Palermo line. Chartered to Trasmediterranea for a season, in 1978 she was on Barcelona – Balearic lines, then from 1980 to 1982 she sailed from Ancona to Patras. Before her sale to Fagez, an Arab company which operated the line Suez - Jeddah, the "Canguro Bruno" was on Barcelona – Genoa line for a short spell. Renamed "Yum", the ship was able to survive her Red Sea days without sinking, a very rare exploit. In 1988 was purchased by Strintzis Lines, which intended to start a four-ship service from Ancona to Patras, introducing with "Ionian Galaxy" and "Ionian Sun" the newly acquired "Ionian Harmony" and replacing the "Ionian Star" with this ferry. Renamed "Ionian Fantasy" was instead chartered for 1989 season to Allways Lines on Piraeus – Rhodes – Cyprus - Israel service and deployed on traffic Italy - Jugoslavia - Greece only in 1990. That year's timetable of "Ionian Fantasy" provided three round-trips Ancona - Split (departure from Italy Thursday, Friday and Saturday at 23.00 and return from Jugoslavia the following day at 12.00), then departure from Ancona at 23.00 for Dubrovnik (Mo 11.30-12.30), Corfu (Tu 02.00) and Patras (Tu 09.00), return from Patras at 22.00 for Corfu (We 07.00), Dubrovnik (We 18.30-19.30) then arrival at Ancona Thursday at 08.00. This service came to an end in 1991 due to the Jugoslavian war: the "Ionian Fantasy", after being renamed "Ionian Sea" was put on Ancona - Corfu - Igoumenitsa - Patras line with "Ionian Galaxy" and "Ionian Island", sailing from Ancona on Thursday at 13.00 and Sunday at 21.00, from Patras on Tuesday at 22.00 and Friday at 24.00; in 1992 launches the new line Bari - Corfu - Igoumenitsa, without a great success, then in 1993 she was on a new Greek domestic line linking three times a week Piraeus, Syros, Paros, Kos and Rhodes, calling once a week also at Naxos, Astypalea, Kalymnos, Nissiros and Tilos. In 1994 was sold to Aktoploiki Maritime (G.A. Ferries) and Dane Sea Line (50% each one), entered in service in 1995 for G.A. Ferries with the name "Dimitra", linking Piraeus and Rhodes via Syros, Paros, Naxos, Patmos, Leros, Kalymnos, Kos, Nissiros, Tilos, Symi and sometimes also Kastelorizo. From 1997 sails for Dane Sea Line on same services as "Dimitra". Seriously damaged by fire on 14/12/98 when in Piraeus, without casualties, she was scrapped in 2001.
<![if !vml]>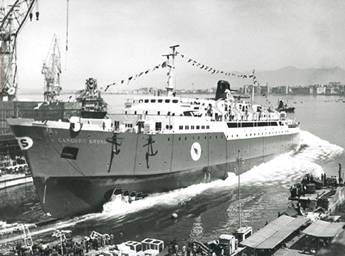 <![endif]>
TRAGHETTI SARDI F/B Canguro Bruno – Photo from the site FINCANTIERI
<![if !vml]>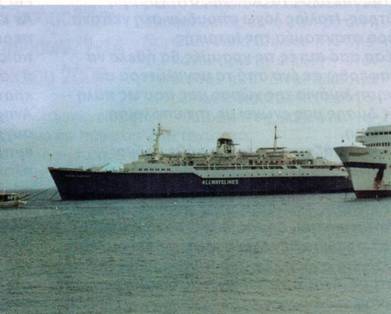 <![endif]>
F/B Ionian Fantasy on charter to Allways Lines, photo by courtesy of EFOPLISTIS magazine.
<![if !vml]>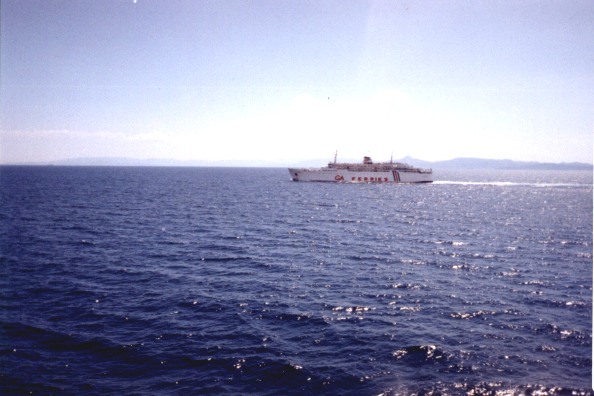 <![endif]>
G.A. FERRIES F/B Dimitra – Photo © Michele Lulurgas, Piraeus Sea, 27/06/96
<![if !vml]>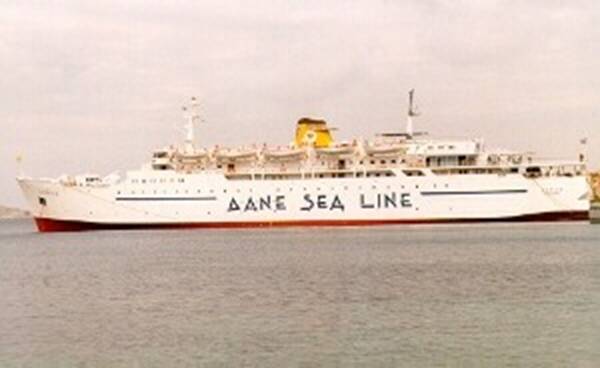 <![endif]>
DANE SEA LINE F/B Leros – Photo from the site DANE SEA LINE
<![if !vml]>
<![endif]>
DANE SEA LINE M/N Leros damaged, laid up in Eleusis – Photo © Pieter Inpijn