F/B ARBOREA
?
???????????????????????????????????????????
Ship

Arborea (1987)

Building Spec.

Fincantieri Genoa, Italy, 1980 N° 4354

Call Sign

IMO Number

7602003

GRT

11.324

DWT

5.402

Dimensions

148,22 x 22,71 x 6,31

Engines

2 Fiat GMT 12c, 11.030 kW

Speed

20 knots

Passengers

1.314

Beds

646

Cars

409

Lane Metres

700

Sister Ships

Fudi

Istanbul S

Registry Port

Naples

Flag

Italian

Former Owners

Tirrenia 1980-04

Former Names

Staffetta Jonica 1980-87

Arborea 1987-04

New Owners

Scrapped at Alang 2005

New Names

Arbore 2005

Line
In 1994 the Greek ferries built in Italy were just two: the first "Dimitra" of G.A. Ferries, the "Ionian Sea" of Strintzis Lines, and then the "Poseidon Express" of Arkadia Lines starter building in Pietra Ligure yard but completed in France due to the bankruptcy of the Italian yard; after ten years the "Italians" are much more: the "Dimitroula" of G.A. Ferries, the "Express Adonis" and "Express Pegasus" of Hellas Ferries, the four Minoan ferries built by Fincantieri Sestri yard plus the "Anthi Marina" which was heavily rebuilt at Fincantieri Palermo. For a little period on summer 2004 also this ferry was part of the Aegean "Little Italy": from the absolute predominance of former Japanese Ferries in Aegean Seas we're passed to a considerable minor difference, and probably in future many other "Italians" would come in Greece. The ship, which should have been named "Mileda", was originally a ro/ro cargo ship of Tirrenia's cargo division, launched by Fincantieri Genoa (on that time Italcantieri) in 1980, named "Staffetta Jonica", with the classical 12 pssengers capacity of a cargo and a dark orange hull typical of Tirrenia Cargo division. By the way, Tirrenia expands continuously its fleet (unfortunately for Adriatica is not the same story) and in 1987 the Tirrenia board decides to rebuilt the "Staffetta Jonica" as a passenger ferry with 646 berths, a 1.315 passenger capacity, a cargo capacity reduced from 990 to 700 lane metres renaming her "Arborea". The ship was mainly deployed on secondary links, as Genoa – Cagliari or Civitavecchia – Cagliari; on 26th October 1999, sailing from Civitavecchia to Olbia (Sardinia) the ship grounded near the entrance of the channel which leads to Olbia port; the company decided to refuse any help because of the high tide due to arrive at 15.00; however the high tide was not able to run the ship aground and passengers were disembarked only in the evening by life-boats!!! Laid up from 2001, was bought on June 2004 by G.A. Ferries, and the owner Mr Gerasimos Agoudimos planned the deployment of the ferry in the Greek seas and the bed capacity reduced from 700 to 400 in order to cut crew members and their cost. The name was chosen as a mixture between "Milena" and "Daliana"; however the ferry was in a very poor condition, also because of her bad conversion from a ro/ro to a passenger ferry, so the ship was soon resold to an Indian breaker, causing also for the Greek company an earning of 200.000 Dollars. The ferry left Genoa for her last trip on March 2005, being scrapped at only 24 years old.
<![if !vml]>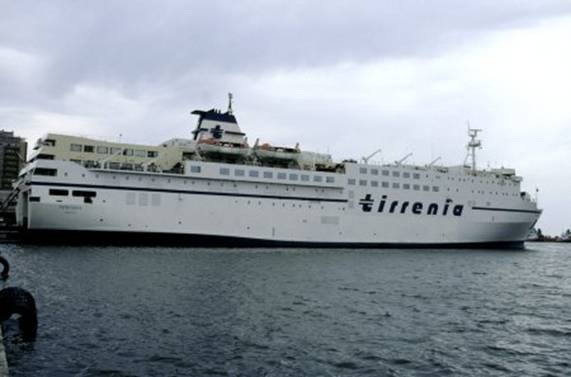 <![endif]>
TIRRENIA F/B Arborea – Photo © Brian Fisher, Caralis, May 1993 #3310