F/B ELLI T.
<![if !vml]>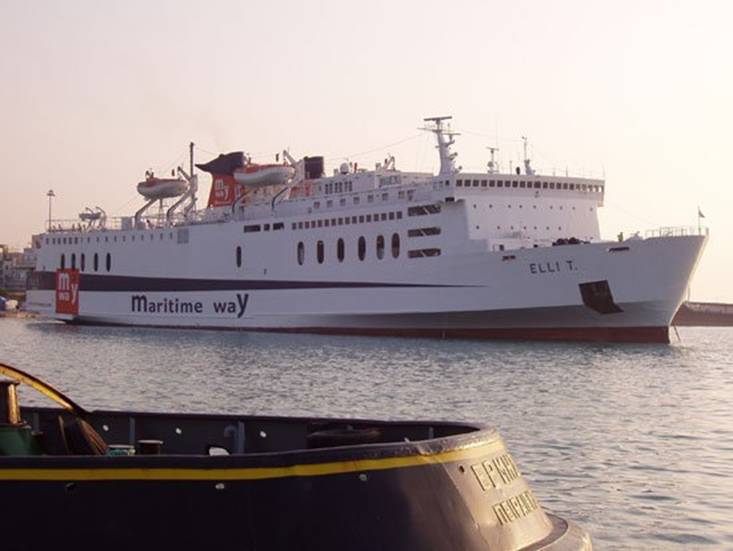 <![endif]>
Photo © Spiridon E. Zervos, Patras, 09/10/04
Ship

Elli T. (2004)

Building Spec.

1976 at Kochi yards, Kochi, Japan N° 870

Call Sign

9HUM5

IMO Number

7432733

GRT

12.338

DWT

1.500

Dimensions

130 x 23,5 x 5,1

Engines

2 Kawasaki - MAN, 11.768 kW

Speed

16 knots

Passengers

1.050

Beds

294

Cars

420

Lane Metres

650

Sister Ships

Registry Port

Valletta

Flag

Maltese

Former Owners

Ehime Anshin Ferry 1976-98

Med Link Lines 1998-04

Endeavour Shipping 2004ŕ

Former Names

Okudogo No 3 1976-98

Maria G 1998-04

New Owners

(Maritime Way 2004ŕ)

New Names

Line

Brindisi – Igoumenitsa – Patras
This ferry entered the Greek seas on her 22nd year of life, bought for Med Link Lines by Mr Georgios Giannatos. Med Link Lines connected Brindisi with Igoumenitsa, Cephalonia, Patras and Cesme, but the "Maria G" was almost entirely deployed between Brindisi, Igoumenitsa and Patras. In 2002 Nel Lines, the Maritime Company of Lesvos, bought Med Link Lines, and the ferry remained on Brindisi line until 2003, serving on alternate days with the "Erotokritos" of Maritime Way, until her sale of March 2004 to Endeavour Shipping of Mr Gianetatos, which renamed the ferry "Elli T" and rebuilt her. It's not very clear if there is Maritime Way, which chartered the ferry in June 2004 to perform their daily service Brindisi – Igoumenitsa – Patras along with "Erotokritos", behind the real owner. But there are many other unclear aspects about this ferry: her overall lenght, which here is indicated as 130 metres, according to other sources is 149 metres; the engine builder is indicated in some sources as MAN, in some others as Kawasaki. Again less comprehensible is the data regarding her speed, which is indicated as 16 knots, far lower than the one of "El Greco" and "King Minos" which were substituted in the Italo-Greek fleet by the present ferry and, above all, her timetable, the same of "Erotokritos", which is capable of 22/23 knots. Coming back to the rebuilding work, my personal opinion is that it was carried only for being able to say to have spent some money on the ferry, considering also the bad aesthetic result. I hope that in 2005 the "Erotokritos" would be better accompanied.
<![if !vml]>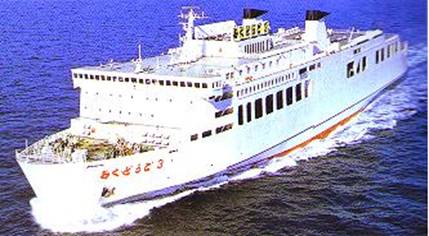 <![endif]>
EHIME ANSHIN FERRY F/B Okudogo 3 – Photo from Daniele Miglio's collection
<![if !vml]>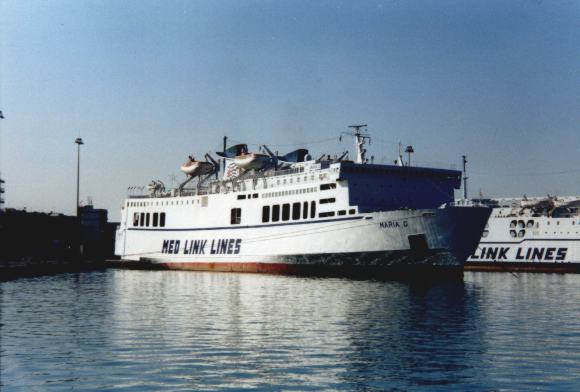 <![endif]>
MED LINK LINES F/B Maria G - Photo © Michele Lulurgas, Patras, 24/12/00
<![if !vml]>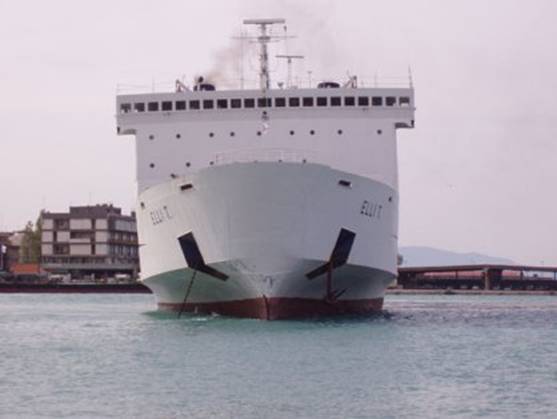 <![endif]>
Photo © Spiridon E. Zervos, Patras, 04/11/04