H/S/F SUPERFAST VI
<![if !vml]>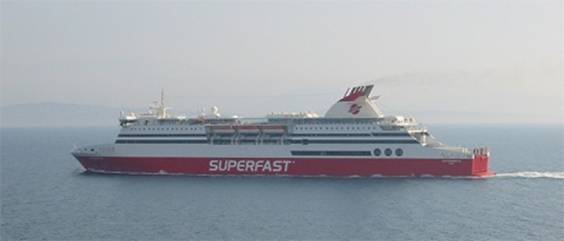 <![endif]>
 Photo © Dominik Wagner 31/10/04
Ship

Superfast VI (2000)

ΣΟΥΠΕΡΦΑΣΤ VI

Building Spec.

2000 at HDW yard, Kiel, Germany N° 356

Call Sign

SYHS

IMO Number

9198939

GRT

31.700

DWT

6.480

Dimensions

203,9 x 25 x 6,42

Engines

4 Wartsila-Sulzer, 42.240 kW

Speed

28,9 knots, max 29,8

Passengers

1.608

Beds

974 (842 in 244 cabins)

Cars

1.000

Lane Metres

1.926

Sister Ships

Registry Port

Patras

Flag

Greek

Former Owners

Former Names

New Owners

New Names

Line

Ancona – Patras (01/01/05 – 21/07/05; 08/08 – 12/08 and 05/09 – 31/12);

 Ancona – Igoumenitsa – Patras – Ancona (22/07 – 07/08);

Ancona – Patras – Igoumenitsa – Ancona (13/08 – 04/09)
For almost a year was a sort of "Ghost Ship": her late delivery has provoked a lot of troubles for the passengers; to someone the port agents attempted to refuse the sea crossing regularly booked. It's impossible to accomodate 3000 passengers in a ship who could take up only 1400 and 2000 cars in a garage suitable for the half of them, but Superfast in that situation should had granted a passage aboard Minoan, Blue Star or Anek or chartering two ships for substitute the new ferries (the "Byblos" ex-Crown M and the "Medina Star" ex-Irish Ferries were laid up all the summer in Eleusis and they could be good to the service of Superfast). After all, the client is always right! After the arrival from Bornholm Island trials on 21/01/01, arrived in Patras at the beginning of February 2001. She is actually serving the routes from Ancona to Greece with, according to Alexander Panagopolulos, a big success. Since 2002 is mainly employed on Ancona – Patras evening direct link, serving also Bari port in 2004. On 2005, after the deployment of another ferry on Bari line along with "Blue Horizon" the ship returned to a full-time Ancona service, even if calling at Igoumenitsa on peak season. As the last pair of Adriatic vessels, this ferry wasn't built with airplane-type seas, but even if these were fitted on the smaller Flender vessels, this ship and her sister weren't refitted in that way. After my comments I want to include a Chronology of events about this pair of unlucky sisters prepared by Fleet File Rotterdam:
SUPERFAST V / SUPERFAST VI CHRONOLOGY OF EVENTS
1998 July 27: Superfast Ferries orders four 31.500 gt ferries from Howaldtswerke Deutsche Werft (HDW) of Kiel, Germany, at a total of US$ 450 million, and takes two options. HDW, which is primarily known as a naval yard, never built ferries before. In order to make an entry in this niche market, the yard calculates losses of DM 5 million on each ship. The usual state subsidy amounts to DM 6,6 millon per ship.
1998 November: HDW subcontracts the construction of eight gear boxes to De Schelde of Vlissingen, The Netherlands. These gears will be roughly similar to the ones built earlier by De Schelde for Superfast III and IV.
1999 March 30: Superfast Ferries extends the order to a total of six, of which the first two can carry 1500 passengers and the others will have a reduced passenger capacity and added freight space. The contract value for all six is DM 1,2 billion.
1999 June 29: Simultaneous keel laying ceremony of all six ferries in HDW's building dock (Superfast V to X, building numbers 355-360). Superfast V and VI will be deployed on the Patras-Ancona run and are scheduled for delivery by the end of June and the end of July 2000, respectively.
2000 July: It becomes clear that HDW has not been able to hand over Superfast V on time. She hasn't been on sea trials yet and the yard admits that these ferries are more complex to build than expected. One of the hydraulic ramps between car decks had to be dismantled and built in a second time. The main problem is now with the gear boxes.  According to the yard De Schelde is 'very co-operative' in solving the troubles. A new delivery date is set for August 30. Travel agents complain about inadequate measures to prevent chaos, while Superfast Ferries are trying to divert bookings for the peak season to Strintzis Lines' new Blue Star 1 and 2.
2000 August 24: First trial run of Superfast V has to be broken off due to troubles with the gears, which led to an automatic shut-off of the engines. The exact nature of the problem remains a mystery. HDW can't tell yet if delivery of Superfast VI, scheduled for 22 September, has to be postponed too. Meanwhile, HDW admits that Superfast VII to X are behind schedule as well. The first of the series will be ready by the end of April instead of January 2001.
2000 September 5: Newspaper reports point out that HDW didn't live up to its reputation as the "Mercedes among shipbuilders" before when trying its hand at merchant shipbuilding. In 1998 completion of a series of container ships for Norasia was hampered by gear box troubles. In 1999 Peter Deilmann's cruise ship Deutschland got very bad press notes because of her noisy Dessauer gear boxes; HDW had to exchange them for new ones made by Renck. Construction of a series of giant container reefers for US fruit company Dole ran into trouble too and cost the yard a large sum of money.
2000 September 12: HDW confirms delivery of Superfast V at the end of November.
2000 September 28: Three board members of HDW, including chairman Dirk Rathjens, are sacked by the owning company, Babcock Borsig, in a row over the lossmaking merchant shipbuilding divison. According to newspaper reports the Superfast ferries will cause a loss of DM 400 million. This figure is "definitely too high", Babcock Borsig says, adding that on the other hand HDW's image is badly damaged.
2000 November: HDW decides that Superfast VI will go on sea trials first. These were scheduled for the end of October, but will now take place in early December. After that Superfast V will make a new trial run. It is confirmed that HDW has to pay penalties of DM 50.000 a day on each ship for late delivery.
2000 November: It becomes known that Superfast V and VI are deeper drawing than specified in the contract. They have an excess draught of 20 cm, which will cause more fuel consumption while maintaining the design speed of 28,9 knots. Superfast holds HDW responsible for the extra costs.
2001 Janyary 10: First sea trials of Superfast VI take place, but the unexpected happens when one of the gear boxes breaks down. This is due to a malfunctioning bearings which, however, should be a minor problem.
2001 January 22: Superfast VI returns after five days of trouble-free sea trials. Owner Alexander Panagopoulos declares she "is in excellent shape". She will be handed over during the first week of February.
2001 January 22: Sea trials of Superfast V are schedueled for 9 February, "or perhaps a few days later". HDW remains cautious, because the problems with her gear boxes are of a different nature to that of her sister.
2001 January 25: HDW announces preliminary figures for fiscal year 2000. The yard earned DM 75 million on a DM 1,1 billion turnover. The Superfast problems amount to excess costs of DM 300 million (penalties payable to Superfast included). HDW will not give up merchant shipbuilding, however. The new executive, prof. Lederer, who sacked the three board members last September, says he is willing to accept 'limited calculated losses' on merchant ships, in order to show that he is serious about being not only a builder of U-Boots and frigates.
2001 February 6: Superfast VI is christened by Katarina Panagopoulos, wife of Superfast Ferries' founder Pericles. It seems a little miracle that this elegant lady manages to let the champagne splash against the ship's hull at the first attempt. Next day the ship leaves for Greece, nearly seven months late.
2001 February 16: Superfast VI makes her maiden voyage from Patras to Ancona and is performing well ever since.
2001 March 19: After a further series of delays Superfast V finally goes on sea trials, seven months since the first one had to be broken off. Some work has to be done, however, before the ship is ready for handover.
2001 March 29: Superfast V completes a new, fully succesful trial trip.
2001 April 5: Superfast V is christened by Mrs Eleni Stamboulelis, wife of Superfast board member Costis Stamboulelis, and leaves for Patras the next day.
(Prepared by Fleet File Rotterdam)
<![if !vml]>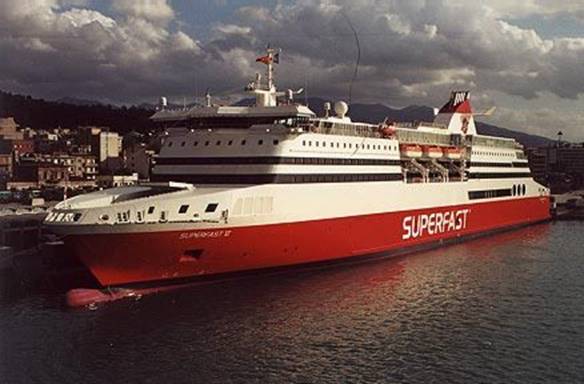 <![endif]>
Photo © Ted Blank
<![if !vml]>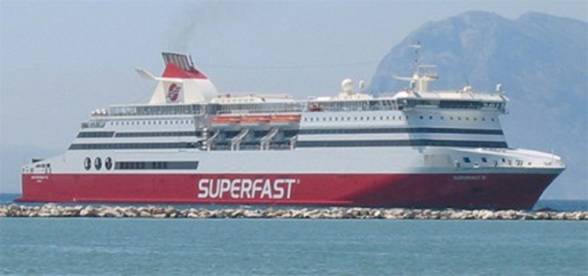 <![endif]>
Photo © Dominik Wagner, July 2003